Britain unfazed by poor showing at track worlds
Britain's Olympic track cycling hopefuls were keeping a stiff upper lip on Sunday as rivals Australia capped a hugely successful campaign at the UCI Track Cycling World Championships in Apeldoorn, the Netherlands.
Heading into the final day of competition, Dave Brailsford's Britain team — who won seven of the 10 Olympic track golds in Beijing in 2008 — had only one gold to be proud of, from the women's team pursuit.
Australia had six in the bag already and after the final four events they added two more — from the women's keirin and Madison — to walk away with eight titles and 11 medals in total from 19 finals.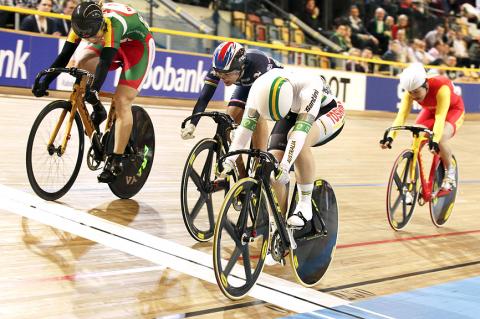 Anna Meares of team Australia, bottom center, wins the sprint of the women's keirin final at the UCI Track Cycling World Championships in Apeldoorn, the Netherlands, on -Sunday.
Photo: AFP
From a purely Olympic perspective, Britain fared not too badly, winning medals in seven events, while Australia won gold in six — the team pursuit, women's sprint and team sprint, women's and men's keirin and men's omnium.
France, thanks mainly to their men's sprint team and individual sprint winner Gregory Bauge, finished second on two gold and a total of seven, while Belarus were third with two gold.
Britain finished fourth with one gold, three silver and five bronze for a tally which, at least to outsiders, may raise a few eyebrows 15 months out from next year's London Olympics.
Although Australia have signaled their return to the world stage after Anna Meares won their sole track medal, a silver from the women's sprint, in Beijing, Britain seem unfazed.
As they did in the lead-up to the 2008 Games, Brailsford will expect his team to raise their game for the Olympic challenge at home. With the backdrop of the London Olympics looming, that means he believes Australia's results here are "irrelevant."
"If you took the emotion out of the situation, it's irrelevant," he said on Sunday. "If it was different nations, would we be saying the same? What's the difference? You've got to beat the person on the line, regardless what their nation is. We can only make the team of athletes the best that they can be."
Australia's athletes will see it differently.
Meares leaves the championships having completed a clean sweep of the sprint events, adding the keirin crown to the team sprint and sprint titles she won earlier.
All three are Olympic events.
Although Britain did not use their top pursuit team in an event won by Australia, they are likely to be the team to beat when Bradley Wiggins and Geraint Thomas return in time for the Games.
Triple Olympic champion Sir Chris Hoy was ousted in the semi-finals by Englishman Jason Kenny, leading to suggestions the Scot has dropped down the pecking order. Only one sprinter is allowed per country at the Games.
Despite both Hoy and Victoria Pendleton relinquishing their respective keirin and sprint titles to Australian rivals, Brailsford added that he expects both to raise their game in the run-up to London.
"As these individuals get towards the end of their careers, they need the big stage to make all the little sacrifices," he said. "In Chris' case, he needs that Olympic drive to really make the sacrifices that he needs to make. Likewise with Vicky. She's the only rider here who took a ride off Meares [in the sprint]. There's room for optimism there."
Meares, meanwhile, believes her recent success will boost her chances of stunning Pendleton again in London.
"We're in great stead. It's a boost for morale, for sure," the 27-year-old Queenslander said. "Morale carries confidence and self-esteem and all those kinds of things snowball into the team around us as well."
Meares said, however, that she had every respect for Pendleton, who has five world sprint titles and four in a row.
"Victoria's an incredible champion, so for someone to be able to beat her ... it's a huge burden for Vicky to hold. She's held that for so many years and that's difficult," Meares said. "I hope that having won three here I can somehow carry that momentum, that respect of what a world champion holds."
Comments will be moderated. Keep comments relevant to the article. Remarks containing abusive and obscene language, personal attacks of any kind or promotion will be removed and the user banned. Final decision will be at the discretion of the Taipei Times.