NBA: Grizzlies pip Celts, eye spot in playoffs
'UP-AND-COMING': Leon Powe scored 13 points in 17 minutes for the Grizzlies, and applauded his younger cohorts for the away victory against his former team
Memphis, scrambling for an NBA postseason berth, edged the -playoff-bound Boston Celtics 90-87 on Wednesday.
Spain's Marc Gasol scored 11 points with 11 rebounds and Zach Randolph had 13 points and eight boards to deny the Celtics in their bid to regain a share of the Eastern Conference lead alongside Chicago.
With little more than a minute to play, Gasol stole the ball from Boston's Ray Allen and made a layup to give the Grizzlies an 88-85 lead.
LeBron James of the Miami Heat, left, drives around Tayshaun Prince of the Detroit Pistons at The Palace in Auburn Hills, Michigan, on Wednesday.
Photo: AFP
Gasol missed two free throws with 4.6 seconds remaining, but Boston's Paul Pierce then missed an awkward three-point attempt that would have forced overtime.
With the victory, the Grizzlies strengthened their hold on the eighth and final playoff spot in the Western Conference.
The Grizzlies improved to 40-32 and are just one-half game behind seventh-place New Orleans.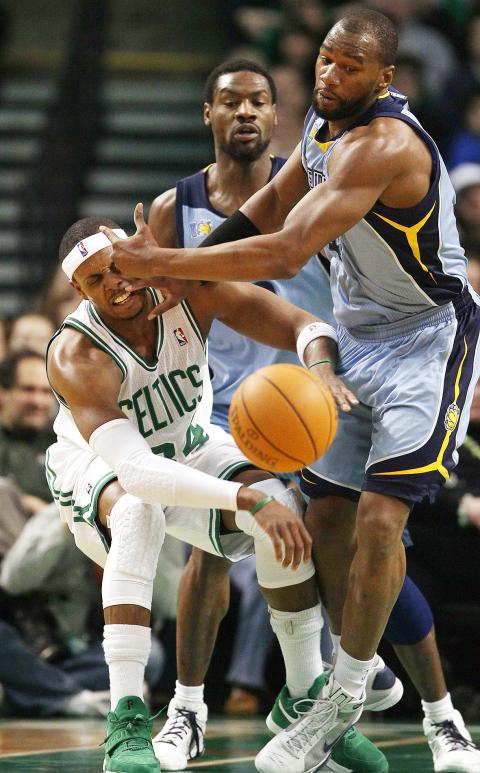 Paul Pierce of the Boston Celtics, left, passes the ball as Sam Young, front, and Tony Allen of the Memphis Grizzlies defend on Wednesday at the TD Garden in Boston.
Photo: AFP
The victory was especially welcome for Memphis, who said on Tuesday that their No. 2 scorer, Rudy Gay, would miss the rest of the season to have surgery on his partially dislocated left shoulder.
The Grizzlies' Leon Powe and Tony Allen, members of the Celtics' 2008 championship team, played key roles against their former club.
Powe came off the bench to score 13 points in 17 minutes — his best game since signing with the Grizzlies.
Allen, who spent the first six years of his career in Boston before signing with Memphis as a free agent, scored nine points with five assists.
"When you can come on the road and beat a great team like that, and do it on the defensive end, it's huge for a young, up-and-coming team," Powe said.
The Celtics fell to 50-20 as they missed a chance to tie the Bulls for best record in the East.
Pierce scored 22 for the Celtics, who lost for the fifth time in nine games. Rajon Rondo had six points, seven steals, 11 rebounds and 11 assists.
NUGGETS 115, SPURS 112
In Denver, Colorado, Wilson Chandler hit a go-ahead jump shot with 29.3 seconds remaining to lift the Denver Nuggets to victory over the NBA-leading San Antonio Spurs.
Up by five at the half, the Spurs took a 93-90 lead into the fourth quarter and stretched it to 98-91. That's when the Nuggets countered with an 11-0 flurry that put them in front 102-98 for their first lead since the game's opening moments. Al Harrington had three-pointers to start and finish the flurry.
The Spurs were playing their first game since losing Tim Duncan indefinitely to an ankle sprain. Rookie center Tiago Splitter got the start in place of Duncan and had a quiet night with 4 points.
THUNDER 106, JAZZ 94
In Oklahoma City, Oklahoma, the hosts dropped a depleted the Utah Jazz below .500 for the first time since early November.
Russell Westbrook scored 31 points and Kevin Durant added 29 for the Thunder.
The Jazz played without starting point guard Devin Harris because of a strained hamstring, and Andrei Kirilenko sat out the second half after bruising a nerve in a knee. That proved to be too much to overcome.
Al Jefferson had 32 points and 12 rebounds to lead the Jazz, who dropped four games behind Memphis for the final playoff spot in the Western Conference with 10 games left.
HEAT 100, PISTONS 94
In Auburn Hills, Michigan, Dwyane Wade scored 24 points to help the Miami Heat rally for a win over Detroit.
Chris Bosh had 23 points for Miami, which has won six of seven.
Richard Hamilton led Detroit with 27 points.
In other NBA action, it was:
‧ Magic 111, Knicks 99
‧ 76ers 105, Hawks 100
‧ Rockets 131, Warriors 112
‧ Pacers 111, Bobcats 88
‧ Suns 114, Raptors 106
‧ Kings 97, Bucks 90
‧ Clippers 127, Wizards 119, OT
‧ Nets 98, Cavaliers 94, OT
Comments will be moderated. Keep comments relevant to the article. Remarks containing abusive and obscene language, personal attacks of any kind or promotion will be removed and the user banned. Final decision will be at the discretion of the Taipei Times.