Djokovic notches Indian Wells win
UNDOING: Rafael Nadal's serve proved to be unwieldy as his first-serve percentage plunged to an unimpressive 25%, allowing Novak Djokovic to take six straight games
Novak Djokovic beat top-ranked Rafael Nadal 4-6, 6-3, 6-2 to win the Indian Wells title on Sunday, keeping the Serbian undefeated this year.
Djokovic improved to 18-0, including victories at the Australian Open and in Dubai last month. He was to move into the No. 2 spot when the ATP Tour rankings were released yesterday, having bumped Roger Federer down to third after beating him in the semi-finals. Nadal was to remain No. 1 with a 14-3 record.
"It definitely says good things. I am playing with a lot of confidence. I'm feeling the ball well on the court," Djokovic said. "I'm very dedicated. I have a big will to win each match. I want to keep on going and keep on playing good tennis."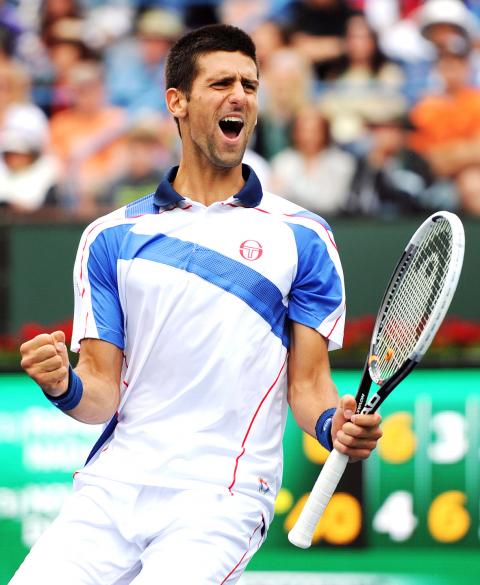 Novak Djokovic of Serbia celebrates his victory over Rafael Nadal of Spain in their men's final match in Indian Wells, California.
Photo: EPA
On the women's side, top-ranked Caroline Wozniacki defeated 15th-seeded Marion Bartoli 6-1, 2-6, 6-3 to win the title a year after the Dane lost in the final.
Djokovic became just the third player to beat Nadal and Federer in the same tournament twice, having last done it at Montreal in 2007. Djokovic lost to Nadal in the final at Indian Wells that year, then won in 2008.
"I know that the season is very long and I don't want to be too euphoric about the win," said Djokovic, who plays at Miami this week. "I need to celebrate a little bit and then move on."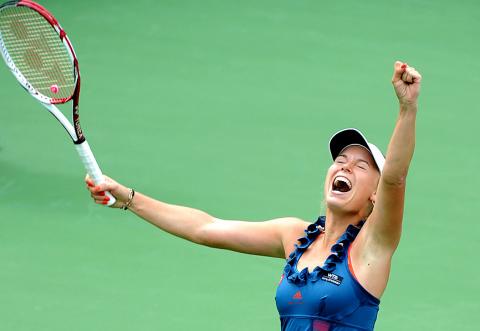 Caroline Wozniacki of Denmark celebrates after defeating Marion Bartoli of France during their women's final match on Sunday in Indian Wells, California.
Photo: AFP
Nadal had beaten Djokovic in all five of their previous finals and he broke Djokovic twice to win the first set.
Djokovic broke to lead 5-3 in the second set, then survived a five-deuce game on his serve to take the set, winning when Nadal's backhand went wide.
It was the first of six straight games he'd win as the Spainard's first-serve percentage dipped to 25 percent.
"At the end of the first set, I started to serve really bad and the second set still in the beginning, even if I won the games because he had more mistakes than usual with the second serve return, I play less aggressive," Nadal said. "I was thinking too much about the serve more than the game in that moment, so I stop a little bit the legs. The serve was the difference."
Djokovic broke an error-prone Nadal twice in the first three games of the third set to take a 4-0 lead. He then served out the match at 40-love to keep Nadal without a title since October last year.
Wozniacki won her WTA Tour-leading 19th match of the year and her second title. Sunday's match was also her third consecutive final.
Wozniacki won on her second match point when Bartoli's backhand sailed beyond the baseline. Bartoli was playing in her first final since 2009 and she fell to 2-6 in matches against the No. 1 player.
Wozniacki was already assured of remaining No. 1 through the upcoming two-week Miami tournament. Bartoli, of France, was projected to be No. 10 when the rankings were to be released yesterday, her first time back in the top 10 since June 2008.
"If every single match I could play like that throughout the years, I would be pretty happy," Bartoli said. "Even though I came up a bit short at the end and she was better than me, I think it was really a great fight."
Wozniacki rolled through the first set, breaking Bartoli three times with well-placed shots that jerked her from side to side and up and back.
"I can keep playing out there for hours and hours," Wozniacki said.
Bartoli earned the only two breaks of the second set, when Wozniacki seemed content to stay back and rally instead of trying to go for as many winners as she did in the opening set.
"She just went for her shots. She started to hit even harder," Wozniacki said. "I didn't feel I played badly. I thought actually I played pretty good, but she was very steady, keeping the pressure."
Wozniacki broke Bartoli after two deuces to open the third set.
She had a triple break point in the third game, but missed a forehand that allowed Bartoli to hold. Wozniacki then asked for her coach — her father Piotr — to come on court. She responded by holding serve in the next game, before Bartoli double-faulted to fall behind 4-1.
"He said: 'You're playing great. Just keep it up. It's just one break in the second set. Just hang in there,'" she said.
Wozniacki was broken for the only time in the third set on a missed backhand and Bartoli survived a deuce game on her serve to close to 4-3.
However, Wozniacki won the final two games, breaking Bartoli to close out the match.
Comments will be moderated. Keep comments relevant to the article. Remarks containing abusive and obscene language, personal attacks of any kind or promotion will be removed and the user banned. Final decision will be at the discretion of the Taipei Times.