FEATURE: Numbers count for superstitious Indian World Cup players
Bowlers desperate to see the back of India's flamboyant opener Virender Sehwag early at the World Cup can now blame the back of his shirt when they are being smashed to all corners of the ground.
The dashing opener, who used to have the number 44 on his back, is now sporting a numberless jersey at the tournament after advice from numerologists.
It seems to work with Sehwag in top form at the World Cup where he has 327 runs from five games at an average of 65.40.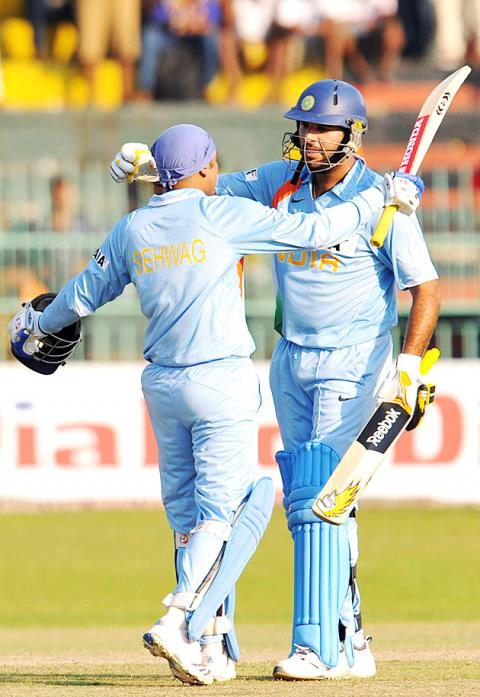 India's Virender Sehwag, left, is congratulated by Yuvraj Singh during the one-day international between India and Sri Lanka in Colombo on Feb. 3, 2009.
Photo: AFP
Sehwag is not alone in his quirks and superstitions as most of the players in the Indian team consult astrologers and numerologists while adhering to set routines in the hope of success.
Captain Mahendra Singh Dhoni sports the No. 7, since his birth date is July 7, while Yuvraj Singh has a 12 to match his birthday of Dec. 12.
Yuvraj also sports a black thread — believed to ward off evil spirits — on his wrist on advice from his mother.
Promising Indian batsman Virat Kohli has no qualms in admitting he is superstitious.
"Earlier, I used to wear the same pair of gloves with which I'd been scoring," he told the Kolkata Telegraph. "That phase has gone as now I look for comfort. Now the superstition revolves around wearing black wristbands."
Paceman Zaheer Khan attributes at least some of his success to his lucky charm — a yellow handkerchief that he keeps with him in every crucial match.
Sachin Tendulkar is known to put on his left pad first and is fussy about his favorite bats.
Former India captain Krish Srikkanth recalled how members of the 1983 World Cup winning squad were asked not to move from their positions when Kapil Dev was batting to glory in a key match against Zimbabwe.
"The point was I was standing outside the dressing room on a cold, windy day, with a cup of coffee in my hand. And I didn't move for the next two hours or so! I wanted to go to the toilet, but Man Singh [the manager] said: 'No,'" recalled Srikkanth of the match at Tunbridge Wells in England.
"To tell you the truth it wasn't easy. Actually, it was tougher than battling it out there in the middle," he said. "Believe me, it stayed that way until Kapil walked back with a triumphant 175 not out."
"It was one of the greatest knocks in any form of cricket, but I would like to think that I had, in my own little way, made a small contribution," he said.
Comments will be moderated. Keep comments relevant to the article. Remarks containing abusive and obscene language, personal attacks of any kind or promotion will be removed and the user banned. Final decision will be at the discretion of the Taipei Times.