Douglas fires Knicks in Grizzlies rout
MASTERCLASS: Toney Douglas' outstanding shooting allowed the Knicks to hold on to sixth place in the Eastern Conference with a half-game lead over the 76ers
Toney Douglas shot a sparkling 29-point haul off the bench to help the New York Knicks set a franchise record for three-pointers in their 120-99 rout of the Memphis Grizzlies on Thursday.
The second-year guard Douglas also tied the franchise's individual three-point record, his ninth successful shot landing with 17 seconds to play and handing the Knicks (35-32) their record-setting 20th for the night.
"The dude at the scorer's table just said: 'Hit one more three.' I was like: 'Huh?' I didn't really realize it would tie the [individual] record," Douglas told reporters.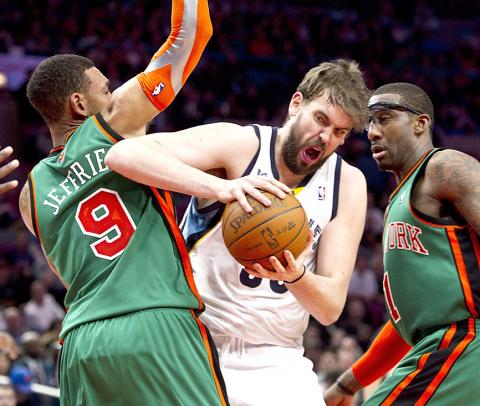 Marc Gasol of the Memphis Grizzlies, center, is fouled by New York Knicks center Jared Jeffries, left, in the second quarter of their NBA game at Madison Square Garden in New York on Thursday.
Photo: Reuters
"He just said to hit one more three, but I didn't really pay any mind. I was just playing my game and taking what the defense gave me," he said.
Douglas' shooting masterclass allowed the Knicks to hold on to sixth place in the Eastern Conference with a half-game lead over the Philadelphia 76ers.
Carmelo Anthony added 28 points, while Chauncey Billups finished with 18 points and eight assists for New York in his best performance since returning from a thigh injury earlier this week.
The Grizzlies (37-32) trailed for most of the match and fell 18 behind after three quarters as their hold on the eighth and final playoff spot in the Western Conference was trimmed to just one game.
Mike Conley scored 16 points and had six assists. Zach Randolph put in 14 in the loss.
New York shot seven three-pointers in the third quarter to keep the Grizzlies at bay.
"We tried to play zone and we tried to go a little smaller, but they're a very talented team and nothing worked for us the two times that we played them," said Memphis coach Lionel Hollins.
BULLS 84, NETS 73
In Newark, New Jersey, Derrick Rose scored 21 points as Chicago extended their longest winning streak in six years to eight games.
Luol Deng added 19 points for the Bulls (49-18), who took a half-game lead over idle Boston in the race for the best record in the Eastern Conference. Rookie Omer Asik added 11 points and a career-high 16 rebounds.
The Nets rallied in the fourth quarter, but Kyle Korver had seven of his 12 in the final period, helping the Bulls hold on.
Brook Lopez scored 22 points for New Jersey, who had won five straight for their longest winning streak in the last three years.
Kris Humphries added 13 points and 16 rebounds, while Deron Williams had 11 assists, but Rose controlled him on defense, limiting him to five points on one-of-12 shooting.
TRAIL BLAZERS 111, CAVALIERS 70
In Portland, Oregon, LaMarcus Aldridge had 20 points and 11 rebounds before heading to the sideline late in the third quarter as Portland routed Cleveland.
Portland led by as many as 44 points while easily surpassing their largest margin of victory this season. Gerald Wallace added 17 points for the Blazers, who had 29 assists compared with Cleveland's total of six.
The Cavaliers, with the league's worst record at 13-54, made just 21 shots from the floor in shooting 35.6 percent. Ramon Sessions had 14 points.
Comments will be moderated. Keep comments relevant to the article. Remarks containing abusive and obscene language, personal attacks of any kind or promotion will be removed and the user banned. Final decision will be at the discretion of the Taipei Times.