Afridi feared repeat of 2007 shock
Pakistan captain Shahid Afridi admitted that the 2007 World Cup disaster against Ireland weighed heavy on his mind when Canada gave his team a major fright, saying it served as a good wake-up call for them.
Pakistan, bowled out for a paltry 184, were indebted to Afridi's 5-23 that helped his team avoid the kind of upset they suffered against Ireland in the Caribbean four years ago.
In the end Pakistan pulled off a 46-run win on Thursday, their third in as many matches to give the 1992 champions six points and top position in Group A, ahead of Sri Lanka and defending champions Australia.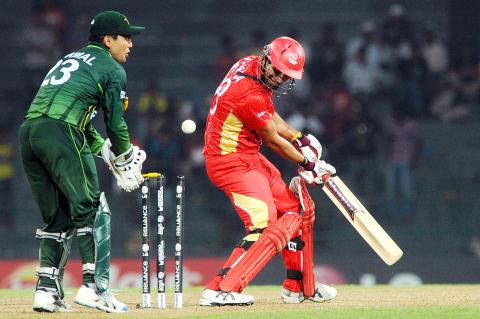 Canada's Jimmy Hansra is dismissed by Pakistan's Shahid Afridi (unseen) as Kamran Akmal reacts during the Cricket World Cup match at the R. Premadasa Stadium in Colombo on Thursday.
Photo: AFP
"Yes, that match in 2007 was on my mind," Afridi said of Pakistan's infamous three-wicket defeat to Ireland in Jamaica which led to his team's first round exit from the last World Cup.
"I know what would have happened had we lost against Canada," said Afridi, of the possible backlash from the millions of fans back home. "But I told the players we must play for a win, that we should not be negative and work hard irrespective of the result."
Afridi blamed poor batting for Pakistan's difficulties.
"I think there was poor shot selection and very poor batting," said Afridi of Pakistan's innings which was wrapped up in 43 overs. "If we want to play good cricket against quality teams then we must improve this and wake up."
Afridi said the third pitch employed at the R. Premadasa stadium was difficult to bat on.
"I think the condition of the pitch was such that we needed to bat with patience, but we didn't do that," he said of Pakistan's batting in which only Umar Akmal (48) and Misbah-ul-Haq (37) showed resistance.
"It was a totally different pitch from the match we played against Sri Lanka. There were clouds overhead and the ball was stopping and moving," he said.
Afridi explained how his plan to put the brakes on the Canadian innings worked well after Jimmy Hansra (43) and Zubin Surkar (27) took Canada to 104-3.
"Their No. 3 and 5 batted sensibly," said Afridi of the fourth wicket partnership of 60. "My plan was to bowl maiden overs so that the asking rate climbed and that worked."
Afridi, who is the leading wicket-taker in the tournament with 14, said he was enjoying his bowling.
"I am doing my level best for the team and it is turning well for me," he said.
Pakistan next face New Zealand at Pallekele on Tuesday.
Comments will be moderated. Keep comments relevant to the article. Remarks containing abusive and obscene language, personal attacks of any kind or promotion will be removed and the user banned. Final decision will be at the discretion of the Taipei Times.