Tseng world's 'hottest' player: 'Golf Digest'
Yani Tseng of Taiwan has emerged as the hottest golf player in the world right now after tightening her hold on the Rolex world No. 1 ranking, according to an article posted on Golf Digest's Web site.
"Who's the hottest play in the world Right Now? It's not Luke Donald. It's not Martin Kaymer ... It's not even Bernhard Langer. You're looking at the wrong tours," wrote Roger Schiffman, managing editor of Golf Digest, in his comments dated Thursday.
In his view, Tseng is the player to beat after winning four of the last five events she has played in and finishing third in the other.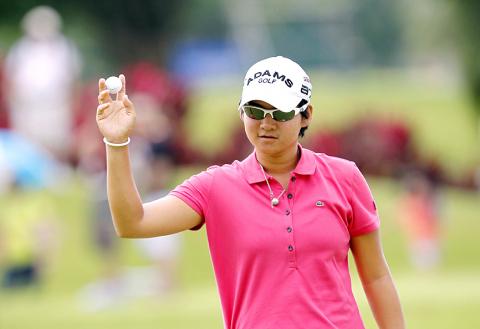 Yani Tseng acknowledges the crowd after making a birdie putt during the HSBC Women's Champions tournament in Singapore on Feb. 27.
Photo: EPA
"She is suddenly filling the LPGA void left by the exodus of Annika Sorenstan and the Lorena Ochoa. Week-in and week-out, she has become the LPGA player to beat," Schiffman wrote.
Schiffman cited Ron Sirak, a Golf World magazine reporter who has been following Tseng's career for several years, as saying that she is perhaps the strongest player physically on the LPGA Tour.
Sirak recalled watching Tseng playing with Sorenstam in the Women's British Open at Sunningdale in 2008 and afterward the Swedish superstar told him that Tseng would be the best player in women's golf in four years.
Tseng rose to the No. 1 ranking after winning the ANZ Ladies Masters in Australia on Feb. 13.
It was her third victory in as many starts this year and she extended her hot streak a week later in Pattaya when she captured the Honda LPGA Thailand on Feb. 20.
Her third-place finish in Singapore on Feb. 27 snapped her winning streak.
Schiffman said in his comments that Tseng's first coach, Tony Kau, got her started on the right track in Taiwan at the age of eight.
He quoted Ernie Huan, who has been Tseng's host and mentor in the US since 2001, as recounting: "I took her and some other girls to see the US Women's Open at Pairie Dunes in 2002 [she was only 12-years-old], and something clicked. She told me, 'I can beat some of these players.' I could tell she was different. She had an inner confidence, even then."
Coach Gary Gilchrist was cited as having said he knew Tseng was extraordinary when he first met her.
"I believe Yani is going to do something special in her life," he once told Morning Drive on the Golf Channel. "She's mentally prepared."
Pia Nilsson and Lynn Marriott, who coached Sorenstam and have worked with Tseng, were also cited.
Nilsson said the one thing that makes Tseng great is "she keeps things simple and uncomplicated."
"She knows she doesn't want to be in the Play Box more than five seconds. Annika always kept things simple and it helped her save energy to play well more often. Yani is the same way in that respect," Nilsson was quoted as saying.
According to Marriott, Tseng "knows how much down time there is in golf between shots, and she is aware and good at making sure she enjoys herself between shots."
Comments will be moderated. Keep comments relevant to the article. Remarks containing abusive and obscene language, personal attacks of any kind or promotion will be removed and the user banned. Final decision will be at the discretion of the Taipei Times.