Montella seizes reins at Roma
New Roma coach Vincenzo Montella denied on Tuesday that he is merely steering the boat until Carlo Ancelotti's arrival at the club.
On Monday Montella took over from Claudio Ranieri, who resigned on Sunday, as the Romans' coach in his first senior posting having been promoted from youth team duties.
Chelsea manager Ancelotti is known to covet the Roma job and despite winning a domestic double in his first season at Stamford Bridge, he and the team have struggled this time around.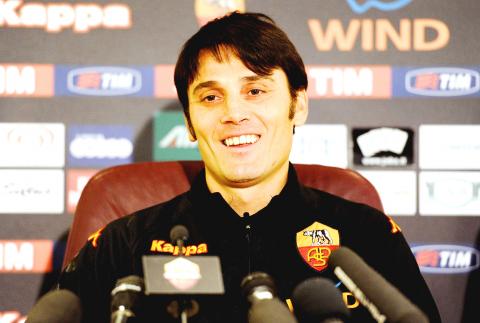 Former AS Roma striker Vincenzo Montella smiles during a news conference on Tuesday at AS Roma's headquarters in Trigoria, Italy. Montella has been appointed as the new coach of the club after Claudio Ranieri handed in his resignation.
Photo: AFP
However, Montella refuses to be labeled as a bridge, despite having only signed on until the end of the season.
"I don't feel like a stopgap. At the same time I don't worry about the rumors or the coaches that are talked about," he said. "I'm not bothered that people are talking about Ancelotti, who is someone I have a lot of respect for. My goal is just to do well from now until the end of the season."
Montella, a former striker for the club, who spent many years as a substitute, was in relaxed mood, making light of his inexperience.
"I believe that I've sat on the bench in Serie A a lot more than many coaches have, so I do have some experience," he joked.
"But for the first time tomorrow I'll be happy to sit on the bench," he added ahead of yesterday's trip to Bologna.
Roma sit eighth in Serie A, although they could move up two places if they win their game in hand.
However, they have lost their last four matches, the run that resulted in Ranieri's demise.
Even so, Montella believes the personal touch will help inspire the players to renewed efforts.
"I accepted the job with enthusiasm because it's a lucky thing to be coach of Roma," said the man affectionately dubbed "the little airplane" by Roma fans as a player because of his goal celebrations.
"There are good players here who are going through a difficult psychological period, they're sensitive lads, but I believe in their desire to bounce back and for me it's important to speak to each one of them individually," he said. "I have a lot of faith in their character, both human and technical."
And Montella said he had already turned to his predecessor for advice.
"I spoke to Ranieri yesterday, I have a lot of respect for him, and previously he gave me some great advice to start coaching. I rang him to thank him, but now I want to make up my own ideas about this team," he said.
Meanwhile, striker Adriano immediately tested the new coach's mettle by not turning up for training.
Adriano failed to report back to Italy as scheduled after spending the last few weeks in Brazil recovering from a broken arm.
The striker quit Inter Milan to return to Brazil two years ago because of personal problems and Roma knew they were taking a risk bringing him back to Serie A.
Agent Gilmar Rinaldi told Italian media: "Only he knows what he wants to do."
Comments will be moderated. Keep comments relevant to the article. Remarks containing abusive and obscene language, personal attacks of any kind or promotion will be removed and the user banned. Final decision will be at the discretion of the Taipei Times.