Niemi achieves shutout as Sharks beat Bruins 2-0
Logan Couture scored on one of just 18 shots for San Jose as the surging Sharks shut out the Boston Bruins 2-0 in the NHL on Saturday.
Devin Setoguchi added an empty-net goal with 2.1 seconds remaining and Antti Niemi got his third shutout of the season. He was helped by his defenders, who rescued wild rebounds before the Bruins could capitalize. Niemi hasn't lost in regulation in his last eight starts.
San Jose has won seven of its last eight.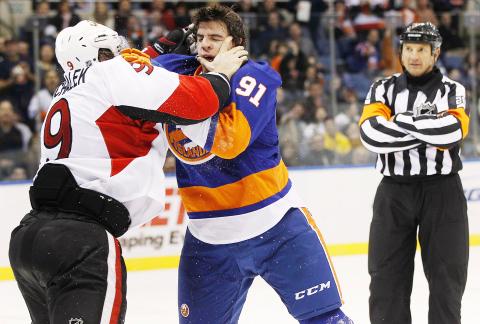 The Ottawa Senators' Milan Michalek, left, and the New York Islanders' John Tavares fight during the second period of their NHL game on Saturday in Uniondale, New York.
Photo: REUTERS
CANADIENS 2, RANGERS 0
In Montreal, Carey Price made 35 saves for his fifth shutout of the season, Scott Gomez scored late in the second period, and Montreal extended the New York Rangers' losing streak to four.
Price has nine career shutouts. He took the NHL lead with 26 wins as Montreal won its third in a row since the All-Star break. Price has started a league-high 46 games.
Gomez, a former Rangers forward, made it 1-0 with 1:26 left in the second with his seventh goal. Tomas Plekanec scored his 18th into an empty net with 37.4 seconds remaining.
DUCKS 3, AVALANCHE 0
In Denver, Corey Perry scored three times and Curtis McElhinney stopped 25 shots for his second NHL shutout, leading Anaheim over struggling Colorado.
Perry completed his second hat trick of the season by scoring an empty-net goal with 17.3 seconds remaining.
McElhinney bottled up the high-scoring Avalanche while filling in for All-Star Jonas Hiller, who was scratched owing to fatigue. The Ducks have won eight of nine against Colorado.
Peter Budaj made 26 saves for the Avalanche, who have dropped three straight.
FLYERS 3, STARS 1
In Philadelphia, Andrej Meszaros and Darroll Powe each scored on long-distance wrist shots, and Brian Boucher stopped 30 shots to lead Philadelphia past Dallas.
Jeff Carter added his 25th goal for the Flyers, who increased their Atlantic Division lead over Pittsburgh to three points.
Brenden Morrow scored for the Pacific Division-leading Stars in the second period, his fifth goal in six games.
ISLANDERS 5, SENATORS 3
In Uniondale, New York, Rob Schremp's second goal of the game broke a third-period tie and lifted the New York Islanders over Ottawa.
The teams split six goals in the first period, but Ottawa was shut down after that. Schremp made it 4-3 at 1:39 of the third with a power-play goal. Frans Nielsen sealed the win with a short-handed, empty-netter with less than 10 seconds to go.
Matt Moulson and Michael Grabner also scored for the Islanders.
Chris Neil, Mike Fisher, and Alex Kovalev all had first-period goals for Ottawa.
In other games it was:
‧ Sabres 6, Maple Leafs 2
‧ Blue Jackets 4, Oilers 3
‧ Hurricanes 4, Thrashers 3, OT
‧ Coyotes 1, Wild 0
‧ Predators 3, Red Wings 0
Comments will be moderated. Keep comments relevant to the article. Remarks containing abusive and obscene language, personal attacks of any kind or promotion will be removed and the user banned. Final decision will be at the discretion of the Taipei Times.