F1: Rival Lotus teams gear up for battle, unveil new cars
The head of Lotus Renault GP used the unveiling its new car on Monday to launch a bitter attack on rival Team Lotus, which he accused of damaging Formula One by fighting to keep the name of the legendary automaker.
"Honestly, there's only one Lotus car company," Lotus Renault chairman Gerard Lopez said.
"I don't think there's any question about who is going to be who on the race track, but I think it's quite damaging to have that go around the Lotus name."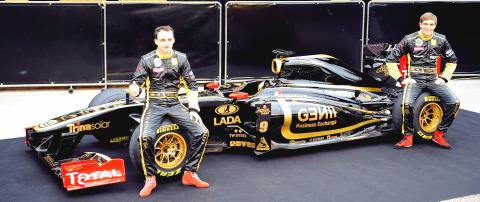 Lotus Renault drivers Robert Kubica, left, and Vitaly Petrov pose after unveiling the new Lotus Renault GP R31 on Monday in Cheste, Spain.
Photo: AFP
Lotus returned to Formula One last season under Tony Fernandes, the flamboyant founder of Malaysia-based budget carrier AirAsia.
However, in September last year, Malaysian automaker Proton, which owns a controlling stake in Lotus, terminated Fernandes' license, forcing him to drop the original name of Lotus Racing and compete as Team Lotus this season.
Then in December last year, the Lotus group took a major equity stake in the Renault Formula One team for this season, which was renamed Lotus Renault GP for this season.
However, legal action is ongoing over the use of the name and both teams are set to compete in the season-opening Bahrain Grand Prix on March 13.
Lopez was speaking at the Ricardo Tormo circuit near Valencia, where Lotus Renault unveiled its new car with its striking black and gold livery — as Team Lotus also sought to grab the limelight with an online launch just hours earlier.
Lopez said the new R31 is "quite revolutionary" and will have "over 92 percent new components."
"We gave our engineers a blank sheet with this new single-seater. Only one instruction: be daring, try to innovate, take risk," he said. "The basis of this year's car is much faster than last year. If last year we did a couple of podiums, this year we should be able to fight for some wins."
Renault finished a disappointing fifth in the constructors' championship last season, with drivers Robert Kubica of Poland and Russia's Vitaly Petrov in eighth and 13th places respectively.
Bruno Senna, nephew of Formula One legend Ayrton Senna, was announced as a back up driver on Monday, joining France's Romain Grosjean.
"We are definitely more prepared this year, we are in a more stable situation," Kubica said. "It's good to have Lotus as a partner, it's given even more stability, although I read a lot of rumors about the name on the Internet."
In what was seen as a snub to Lotus Renault, Team Lotus launched its new car online a few hours before that of its rival.
"There has been so much focus off-track it's a thrill to be able to get back to talking about racing," Fernandes was quoted as saying on the team's Web site.
Riad Asmat, Team Lotus' chief executive officer, said the new T128, which has green and yellow livery, takes the outfit "in exactly the right direction."
Earlier, struggling Swiss outfit Sauber looked to Mexico as it revealed its new car for this season.
Mexican rookie Sergio Perez, who turned 21 this month, will be the No. 2 driver to Japan's Kumai Kubayashi in the new white and graphite-colored Sauber C30-Ferrari.
The first Mexican to compete in Formula One for three decades, he comes to Sauber along with four major Mexican sponsors this year.
Ferrari were the first team to unveil their car for this year, in Italy on Friday.
The new Ferrari design -incorporates the various regulation changes that will be enforced this season — most notably the introduction of an adjustable rear wing and the removal of devices such as F-ducts and double diffusers.
This season will also see the return of KERS, a device that stores energy created by braking, which can be used to boost power at certain points during the race. Another important change for this season is the introduction of tires from the Italian company Pirelli, which takes over from Bridgestone as the sport's sole tire supplier.
"With so many changes this year, the task facing us is bigger than in previous years and understanding KERS, the rear wing and the new tires will need a lot of laps," Kubica said.
Comments will be moderated. Keep comments relevant to the article. Remarks containing abusive and obscene language, personal attacks of any kind or promotion will be removed and the user banned. Final decision will be at the discretion of the Taipei Times.