Uchiyama TKOs Miura to defend WBA title
Takashi Uchiyama beat fellow Japanese Takashi Miura by a technical knockout to defend his WBA super featherweight title on Monday.
Doctors stopped the fight after the eighth round as Miura's right eye became swollen.
"I won because he lost his sight. I was lucky, but I'm very sorry for him and his fans. He is tough and he has strong punches. It was a good experience for me," Uchiyama, 31, said.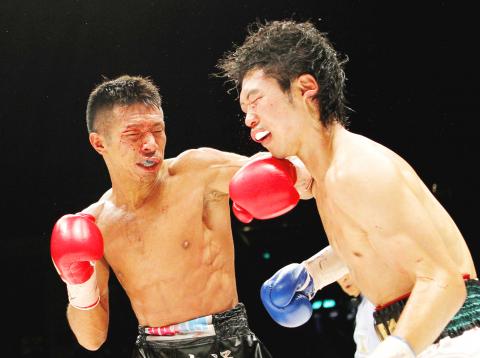 Takashi Uchiyama of Japan, left, punches compatriot and challenger Takashi Miura during their WBA super featherweight title fight in Tokyo on Monday.
Photo: Reuters
"When I went down I turned my eyes away from him for a moment. I thought I made a mistake, but it didn't give me any damage. On the contrary, I guarded tightly and was able to fight," Uchiyama added. "I shall become stronger. I'm determined to win my next title match by a solid knockout victory."
Uchiyama unleashed a series of jabs to the face to keep Miura at bay, but Miura caused a surprise by flooring Uchiyama in the third round with a sizzling left straight to the face.
An accidental headbutt cut Uchiyama's right eyelid, but Miura was affected by his right eye swelling up.
It was Uchiyama's third defense of the title he wrested from Juan Carlos Salgado of Mexico, also by a technical knockout, in January last year. He bettered his unbeaten record to 17 wins, including 14 KOs.
For the 26-year-old Miura, ranked fourth in the WBA, it was his second defeat with 20 wins, including 16 KOs and two draws.
In other action on Monday, Akifumi Shimoda produced an array of counter-hooks for a unanimous decision victory to wrest the WBA super bantamweight title from Lee Retsuri.
Three judges counted it 115-111, 118-109, 118-109 all in favor of the challenger.
"I'm not satisfied with my performance, but I tried to do my best, what I've done in the past two years," said Shimoda, after his first attempt at a world title. "I didn't feel like I scored the first down. It was good that my left hook hit the target."
The 26-year-old Japanese challenger, ranked sixth in the WBA, fought aggressively from the outset, staggering the Japan-based Korean defending champion in the first round.
Shimoda sent Lee to the floor with a fine left counter-hook in the third round, but Lee also downed Shimoda at the end of the round. Both stood up quickly.
Shimoda, whose right eyelid was cut by an accidental headbutt in the fourth round, unleashed a left counter-hook to score another down in the fifth round and then again downed Lee with a right hook in the eighth.
Lee tried hard to fight back in the last three rounds, but he was unable to reverse the momentum.
Shimoda improved his record to 23 wins, including 10 KOs, against two defeats and a draw.
It was Lee's first defense of the title he won in October last year. He saw his record reduced to 17 wins, including eight KOs, against two defeats and a draw.
Comments will be moderated. Keep comments relevant to the article. Remarks containing abusive and obscene language, personal attacks of any kind or promotion will be removed and the user banned. Final decision will be at the discretion of the Taipei Times.