NBA: James, Heat hand hapless Cavs 21st consecutive loss
EXERCISE IN FUTILITY: Cleveland are now four defeats shy of setting the NBA all-time record for straight losses, surpassing the mark the franchise set in the early 1980's
LeBron James added to his former team's misery by helping the Miami Heat to a 117-90 blowout win over Cleveland on Monday, handing the reeling Cavaliers their single--season record 21st straight loss.
James, who angered Cleveland fans when he announced his decision to sign with the Heat on a televised show last July, had 24 points and eight assists, while Dwyane Wade had a game-high 34 points in a rout of the NBA's worst team.
Antawn Jamison led Cleveland with 21 points and 10 rebounds, but the Cavaliers (8-40) could not halt their skid and are two losses shy of tying the single-season NBA losing streak record shared by the Vancouver Grizzlies (1995-1996) and the Denver Nuggets (1997-1998).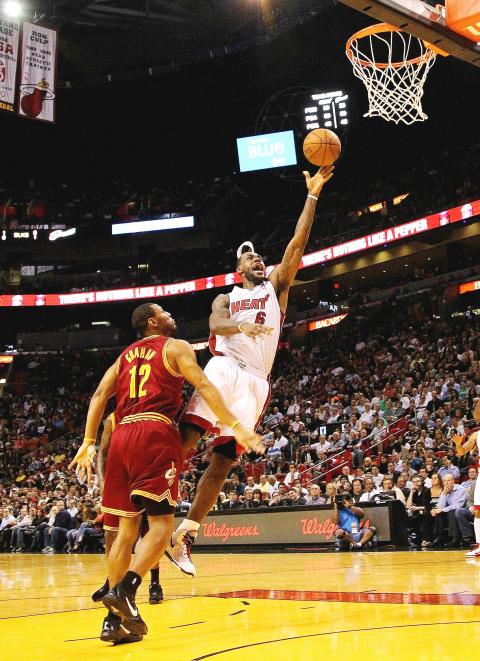 Miami Heat forward LeBron James, right, goes up for a shot against Cleveland Cavaliers guard Joey Graham during their game on Monday in Miami.
Photo: AFP
The overall record for consecutive losses is 24, set by the Cavs over the span of the 1981-1982 and 1982-1983 NBA seasons.
Leading the whole way on Monday, Miami briefly had their advantage trimmed to 70-67 in the third quarter, before they answered with nine straight points and eventually opened up a 30-point lead in the fourth.
The Heat (34-14) won their third straight game and moved into sole possession of second place in the Eastern Conference, a half-game in front of the Chicago Bulls.
It was the second straight game Miami had their "Big Three" of James, Wade and Chris Bosh playing together after all three had suffered from various injuries during the past three weeks.
Bosh finished with 10 points and seven rebounds.
James, the two-time reigning NBA MVP, has earned victories in each of the Heat's three games against his former team this season.
His departure from Cleveland has sent the franchise into a tailspin. The team have dealt with injuries and disappointment under first-year coach Byron Scott, while losing 31 of their last 32 games.
The two teams will have their final meeting of the regular season on March 29 when Miami travel to Cleveland.
Nets 115, Nuggets 99
In Newark, New Jersey, the Nets gave a rude welcome to one-time trade target Carmelo Anthony, beating his Denver Nuggets on his first visit to New Jersey since a proposed trade deal broke down.
A prospective three-way trade that would have landed Anthony in New Jersey was halted nearly two weeks ago when Nets owner Mikhail Prokhorov said it was distracting his team.
Anthony, who has been booed by his home Denver crowd this season, was greeted by a mixed response on Monday in New Jersey as he scored a game-high 37 points.
However, the Nets stole the show, getting 27 points from Brook Lopez and 21 from Travis Outlaw to take the win.
Set to become a free agent after the season, the possibility still exists that Anthony could be traded before the Feb. 24 deadline.
Grizzlies 100, Magic 97
In Memphis, Tennessee, Mike Conley scored 26 points and had a key late steal as the Memphis Grizzlies edged the Orlando Magic.
Orlando's Gilbert Arenas made one of two foul-shots to cut the Grizzlies lead to 98-97 with 40 seconds left.
Conley then stole the ball from Orlando forward Ryan Anderson and was fouled. Dwight Howard was then called for a technical foul and Zach Randolph made the free throw. Conley made one of two free throws, before Jason Richardson's desperation tying attempt at the buzzer missed badly.
Clippers 105, Bucks 98
In Los Angeles, the home team withstood a fourth-quarter challenge from Milwaukee to notch their ninth straight home win.
Blake Griffin had 32 points and 11 rebounds for his 39th double-double for the Clippers.
There was good news off the court too for Los Angeles; Eric Gordon, the Clippers' leading scorer, who was expected to be out for a month because of a right wrist injury, is now day-to-day and will join the team for their upcoming 10-game road trip.
Corey Maggette scored 25 points against his former team as the Bucks' three-game winning streak ended.
Jazz 83, Bobcats 78
In Salt Lake City, Utah, the undermanned Jazz blocked 10 shots to hold off Charlotte.
Paul Millsap grabbed two offensive rebounds off misses before being fouled with 40 seconds left. He made both free-throws for an 81-78 Utah lead.
Gerald Wallace missed a three-pointer that would have tied it for Charlotte and Jazz guard Raja Bell grabbed the defensive rebound, then made both free throws for the final margin.
Al Jefferson scored 21 points, while Millsap added 12 rebounds for the Jazz, who won despite being without star point guard Deron Williams for the third straight game because of a wrist injury.
Stephen Jackson led Charlotte with 24 points.
In Monday's other action, it was:
‧ Mavericks 102, Wizards 92
‧ Pacers 104, Raptors 93
Comments will be moderated. Keep comments relevant to the article. Remarks containing abusive and obscene language, personal attacks of any kind or promotion will be removed and the user banned. Final decision will be at the discretion of the Taipei Times.