Britain's Ennis too strong for Lolo Jones
World indoor champion Lolo Jones stumbled to defeat in the 60m hurdles at the Aviva International meet on Saturday, with Britain's Jessica Ennis too strong for the US star for the second straight year.
Ennis, the world heptathlon champion, ran a flawless race at Glasgow's Kelvin Hall to power to victory in an official time of 7.97 seconds.
Jones got off to a decent start, but hit the second-to-last hurdle with her lead leg to scupper her chances, trailing in fourth in 8.27 seconds.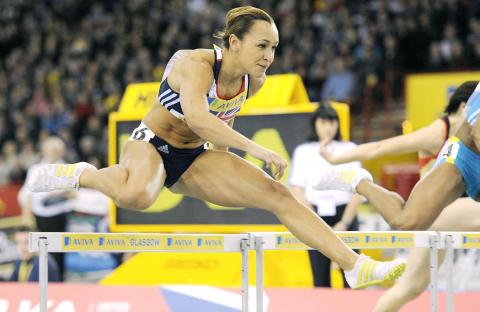 Britain's Jessica Ennis leaps over a hurdle during the women's 60m hurdles at the Aviva International athletics match at Kelvin Hall in Glasgow, Scotland, on Saturday.
Photo: Reuters
Ennis, who finished third in the long jump later on Saturday, ran a personal best to beat Jones by 0.02 seconds at the same meet last year.
"I could feel Ennis and I knew it was a good battle, but I pushed too hard," said Jones, who was competing in her first race of the year. "With just five hurdles, you can't do anything after that. It wasn't a good match-up today and that was frustrating. I wasn't able to provide that excitement."
Ennis, who had already ran twice before this season, was delighted to repeat her win over Jones.
"I think my start wasn't very good ... but I think my general speed's good," Ennis said. "I've done a lot of work on that over the winter. I think the latter part of my race is better, so I came through quite well and I'm hoping that bodes well for the summer as well."
Tiffany Ofili, competing for the Commonwealth, came second in 8.04 seconds.
David Oliver of the US, who was unbeaten outdoors in the 110m hurdles last summer, won the men's 60m hurdles in 7.51 seconds — his fastest time in a season-opening race.
"Things are looking good," said Oliver, who last year ran two of the six fastest times ever in the 110m hurdles. "I will just try to stay consistent. I'm hoping it's the springboard for a good outdoor season."
Oliver finished well clear of Andy Turner, the European champion from Britain, who clocked 7.66 seconds.
Dan Huling of the US won the 3,000m in a personal-best time of 7 minutes, 56.68 seconds, while compatriot Alexandria Anderson started poorly in the women's 60m, but came through to cross first in 7.31 seconds.
Germany, Sweden and a Commonwealth Select squad were the other teams in the Five Nations match. Germany won with 61 points, five ahead of Britain and the Commonwealth.
Comments will be moderated. Keep comments relevant to the article. Remarks containing abusive and obscene language, personal attacks of any kind or promotion will be removed and the user banned. Final decision will be at the discretion of the Taipei Times.