FEATURE: Qatar enjoy fruits of imported foreign talent
As trainee World Cup hosts, Qatar's organization of the Asian Cup has been subject to intense scrutiny, but their passage to the quarter-finals owes much to players born outside the country's borders.
Star striker Sebastian Soria hails from Uruguay, midfielder Lawrence Quaye was born in Ghana and schemer Fabio Cesar, who scored a magisterial free-kick in their 3-0 win over Kuwait, is originally from Brazil.
The trio moved to Qatari clubs at roughly the same time — Soria and Quaye joining al-Gharafa in 2004, Cesar pitching up at al-Arabi in 2005 — and were subsequently offered citizenship to allow them to represent the national team.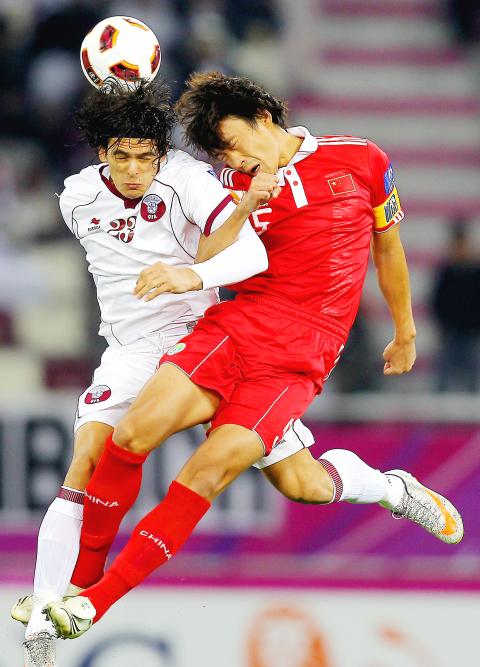 Qatar's forward Sebastian Soria, left, heads the ball with China's defender Du Wei during this year's Asian Cup group A soccer match between China and Qatar at Khalifa Stadium in Doha on Jan. 12.
Photo: AFP
Soria made his debut for his adopted country in 2006 and the bustling 27-year-old rapidly became the fulcrum of the side's attack, finding the net with impressive regularity.
Cesar made his bow in the maroon of his new homeland in 2008, with Quaye — who represented Ghana at the under-20 level — following suit last year.
"Of course we can benefit from having a player with his quality on the team," Qatar striker Hussain Yaser said after Quaye shone in the hosts' Asian Cup warm-up matches. "He has been playing for many years in Qatar and I think that he is one of us."
Naturalized players are an increasingly common phenomenon in modern soccer, with Brazilian-born midfielders Deco (Portugal) and Marcos Senna (Spain) two of the most high-profile examples of recent years.
The process of offering citizenship to talented foreign players in a bid to artificially strengthen a country's soccer gene pool has drawn criticism in the past, but Soria says his own experience has been a positive one.
"When I go grocery shopping, the Qatari fans stop me and say: 'You are the one who deserves to be Qatari. You are the only one who plays with your heart, we like how you play,'" Soria told al-Jazeera in a 2009 interview. "I don't feel shy about such comments, because it is nice to hear people say these things."
Foreign coaches have long been an accepted feature of the international soccer landscape and Qatar's French coach Bruno Metsu has no qualms about capping players who have only been eligible for a handful of years.
Aside from Soria, Quaye and Cesar, Qatar goalkeeper Qasem Burhan was born in the Senegalese capital Dakar and center-back Mohammed Kasola, who made his debut in March last year, is of Kenyan origin.
A cursory scan of the Asian Cup squad lists reveals that Qatar are not alone in having looked abroad to improve the fortunes of their national teams.
Nigerian-born striker Jaycee John now represents Bahrain, along with Chadian-born midfielder Abdullah Omar, while Syrian midfielder Louay Chanko previously turned out for his native Sweden.
India coach Bob Houghton says the practice has had a particularly big impact in the Gulf region.
"The Gulf countries have improved a lot," said the 63-year-old Englishman, who has also coached China and Uzbekistan. "They now have so many Africans and non-Gulf players. They're much more physical and difficult to beat. Saudi Arabia use to dominate in the region, but now the other Gulf countries have caught them up, mainly because of the importation of African players."
Houghton has long lamented the lack of soccer infrastructure in India, who are currently languishing in 144th place in the FIFA world ranking and went out of the Asian Cup at the group phase following three straight defeats.
As India toil to make an impression on the international scene, Houghton could be forgiven for wondering whether a quick-fix solution would be to track down some naturalized South Americans of his own.
Comments will be moderated. Keep comments relevant to the article. Remarks containing abusive and obscene language, personal attacks of any kind or promotion will be removed and the user banned. Final decision will be at the discretion of the Taipei Times.