NBA: Celtics edge the Magic in frantic finish
Boston's Kevin Garnett made a game-clinching steal in his return to the court on Monday and Paul Pierce nailed the winning shot in the final minute to lift the Celtics to a 109-106 triumph over the Orlando Magic.
Pierce drew a foul on his go-ahead jump shot and converted the three-point play with 38 seconds remaining, while Garnett added 19 points and eight rebounds in his first action since missing nine games with a leg injury.
With Boston leading 107-104 and 15 seconds to go, Garnett stole an Orlando pass to send the Celtics to their third successive win.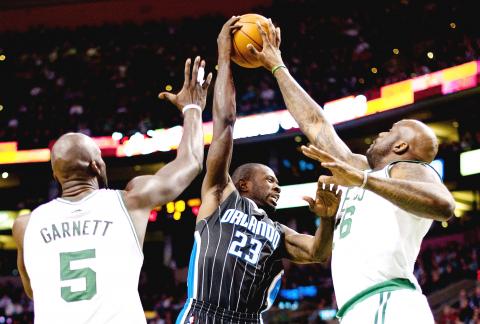 Boston Celtics center Shaquille O'Neal, right, blocks a shot by Orlando Magic guard Jason Richardson, center, as Boston Celtics forward Kevin Garnett defends during the second quarter of their game on Monday at the TD Garden in Boston.
Photo: EPA
Ray Allen led the Eastern Conference-leading Celtics (31-9) with 26 points.
Dwight Howard had a game-high 33 points and 13 rebounds for the Magic (26-15), who came up short in a rematch of last season's Eastern Conference finalists.
Orlando lost in six games in that post-season series, but managed to get the better of Boston this season on Christmas Day.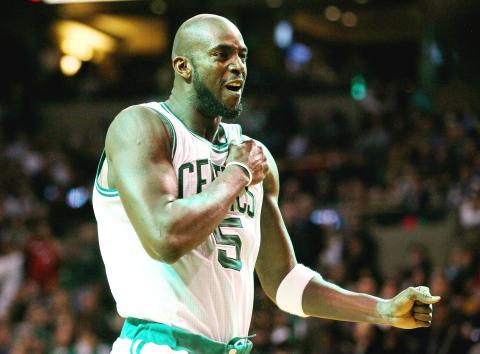 Boston Celtics forward Kevin Garnett plays to the crowd before the opening tipoff of their game against the Orlando Magic on Monday at the TD Garden in Boston.
Photo: AFP
Hedo Turkoglu, one of four new players acquired by the Magic through trades last month, twice gave Orlando the lead in the final five minutes where the advantage changed hands several times.
Allen made a three-pointer to put the Celtics up one with 2 minutes, 15 seconds left, and Garnett again restored a cushion with two free-throws.
Magic point guard Jameer Nelson tied the game on a jumper with 51 seconds remaining before Pierce's stepped up.
Garnett's presence will help Boston inside as the Celtics are still without injured post players Kendrick Perkins and Jermaine O'Neal.
CLIPPERS 114, PACERS 107
In Los Angeles, Blake Griffin continued his superb rookie season, scoring a career-high 47 points to lead the Los Angeles Clippers past the Indiana Pacers.
Griffin scored several different ways against the Pacers as he powered his way to the basket for dunks and executed from long range when he needed to, finishing with 14 rebounds for his 27th straight double-double.
Griffin made 19 field-goals and also broke his own record for points in a game by a Clippers' rookie player.
Eric Gordon finished with 23 points, while Baron Davis had 14 points and 12 assists for the Clippers, who have won five of their last six games.
The Clippers are fresh off a win on Sunday over the two-time defending NBA champion Los Angeles Lakers and have won 10 of their last 14.
Danny Granger scored 32 points, while Darren Collison added 30 points and eight assists for the Pacers. Granger made 10 of 11 shots from the free-throw line.
"Spectacular performance by Griffin," Pacers coach Jim O'Brien said. "We couldn't guard him, he was too much to handle."
Griffin was perfect from the field in the second quarter, scoring 15 points as the Clippers rallied from an early deficit to close within three at halftime.
SUNS 129, KNICKS 121
In New York, Vince Carter scored 29 points, including the 20,000th of his career, as Phoenix matched a season high with their third straight victory.
Grant Hill added 25 points for the Suns, who overcame a season-high 41 points from former Phoenix All-Star Amare Stoudemire, as they handed the Knicks their third loss in a row. Steve Nash finished with 15 points and 11 assists.
Wilson Chandler scored 23 points for the Knicks. Raymond Felton had 13 assists.
In Monday's other action, it was:
‧ Hawks 100, Kings 98
‧ Pistons 103, Mavericks 89
‧ Hornets 85, Raptors 81
‧ Bulls 96, Grizzlies 84
‧ Rockets 93, Bucks 84
‧ 76ers 96, Bobcats 92 OT
‧ Wizards 108, Jazz 101
‧ Warriors 109, Nets 100
‧ Trailblazers 113, T'wolves 102
‧ Lakers 101, Thunder 94
Comments will be moderated. Keep comments relevant to the article. Remarks containing abusive and obscene language, personal attacks of any kind or promotion will be removed and the user banned. Final decision will be at the discretion of the Taipei Times.