NFL: Steelers rally to down Ravens
ATLANTA ACED: While Pittsburgh had to fight back from a 14-point deficit, Aaron Rodgers threw three touchdown passes as the Packers routed the Falcons
Ben Roethlisberger rallied the Steelers and Aaron Rodgers led the Packers to a rout on Saturday as Pittsburgh and Green Bay advanced in the NFL playoffs.
Roethlisberger and the Steelers erased a 14-point halftime deficit to deal Baltimore a bitter, 31-24 post-season defeat and reach the American Conference championship game.
In Atlanta, Georgia, Aaron Rodgers threw three touchdown passes and ran for another score as the Packers ousted the National Conference top seeds Atlanta 48-21.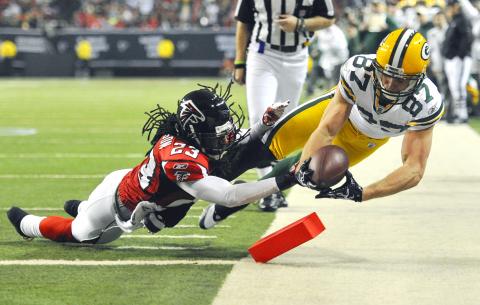 Jordy Nelson of the Green Bay Packers, right, dives into the end zone past Atlanta Falcons cornerback Dunta Robinson to score a touchdown during the second quarter of their NFC playoff game in Atlanta, Georgia, on Saturday.
Photo: Reuters
Rodgers completed 31 of 36 passes for 366 yards as the Packers notched a second straight playoff victory on the road.
Next week they will play at either Chicago or Seattle for the NFC title.
"This just feels so good right now," said Rodgers, who guided the Packers to the highest-scoring playoff game in their history.
"This probably was my best performance — the stage we were on, the importance of this game," added Rodgers, who engineered four drives of 80 yards or more. "It was a good night."
The Packers scored 35 straight points, including Tramon Williams' 70-yard interception return on the final play of the first half.
Atlanta quarterback Matt Ryan endured a difficult night. He was intercepted in the end zone and lost a fumble.
"Any time you're in the playoffs, you have an opportunity to win it all," Ryan said. "When that doesn't happen, it's frustrating."
The frustration was surely greater after the Falcons entered the playoffs as the top seeds in the NFC.
"I know they're disappointed," coach Mike Smith said of his players. "I'm disappointed. We're all disappointed, but we will learn from it. I also told them, as bad as they feel right now, remember the whole body of work we put out there this year. We can't forget that either."
Pittsburgh reached their fifth AFC title game in 10 seasons and will either visit New England or host the New York Jets.
Roethlisberger connected with rookie Antonio Brown on a 58-yard passing play on third-and-19, and Rashard Mendenhall scored from the two-yard line with 1 minute, 33 seconds left to play to seal Pittsburgh's victory.
The Steelers had trailed 21-7 at halftime as turnovers led to two quick Baltimore touchdowns, but they turned the tables with two touchdowns to even the score in the third quarter, as Baltimore's playoff bid unraveled in a welter of mistakes in Pittsburgh.
"You know what, our offense went in there [at halftime] and said: 'We played terrible, we gave them the ball in prime position too many times,'" Roethlisberger said. "We had to do something about it."
Three Ravens turnovers in the third quarter — running back Ray Rice fumbled in addition to quarterback Joe Flacco throwing an interception and fumbling a snap from center — led to 17 points for the Steelers.
It was the third time in three tries the Ravens have lost a playoff game in Pittsburgh.
This time around Baltimore's last opportunity to beat the Steelers ended when T.J. Houshmandzadeh dropped Flacco's fourth-down pass at the Steelers' 38-yard line with 1 minute, 3 seconds to play.
The Ravens were outgained 263-126 as Flacco was 16 of 30 for 125 yards. Baltimore became the eighth team in NFL playoff history to fail to gain at least 100 yards in the first three quarters.
"They get to go on and play the AFC championship and contend for a Super Bowl," Ravens linebacker Terrell Suggs said. "We go to the couch."
Comments will be moderated. Keep comments relevant to the article. Remarks containing abusive and obscene language, personal attacks of any kind or promotion will be removed and the user banned. Final decision will be at the discretion of the Taipei Times.