NBA: Houston hold off Boston to win 108-102
FINAL PUSH: It was all go in the dying minutes of the game as a flurry of last-minute shots edged the Rockets over the Celtics, ending their five-game losing streak
Aaron Brooks hit a pair of free throws with 18 seconds left to hold off a furious Boston rally and help the Houston Rockets beat the Celtics 108-102 in the NBA on Monday.
Brooks scored 24 points for the Rockets, who ended a five-game losing streak despite playing without leading scorer Kevin Martin.
Houston was up 106-94 with 3:13 left before Marquis Daniels made a jumper and then Ray Allen and Paul Pierce followed with three-pointers to make it a four-point game.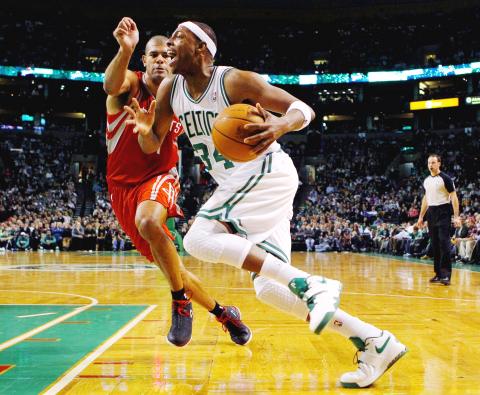 Boston Celtics forward Paul Pierce, right, drives to the basket against Houston Rockets forward Shane Battier in the first quarter of their game in Boston on Monday.
Photo: Reuters
Kyle Lowry had 17 points and eight assists and Luis Scola added 12 points and nine rebounds for the Rockets.
Allen scored 19 for Boston and Daniels had season highs of 19 points and seven rebounds for the Celtics, who have lost two straight without star Kevin Garnett.
Garnett has been out since late December with a strained right calf, but the team hopes he will be able to return against Sacramento today.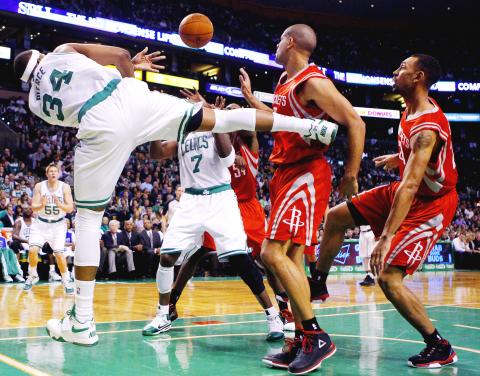 Boston Celtics forward Paul Pierce, left, passes the ball to teammate Jermaine O'Neal as Houston Rockets forward Shane Battier, second right, and Rockets forward Jared Jeffries look on in the first quarter of their game in Boston on Monday.
Photo: Reuters
Bobcats 96, Grizzlies 82
In Charlotte, North Carolina, Stephen Jackson scored 27 points and the Bobcats stayed hot under new coach Paul Silas with a victory over listless Memphis.
A crowd of about 1,000 fans braved a snowstorm that shut down much of the city to watch the Bobcats move to 5-2 since former coach Larry Brown was fired.
D.J. Augustin added 18 points and nine assists and Matt Carroll scored 12 points for Charlotte.
Zach Randolph had 15 points and 15 rebounds for the Grizzlies, who lost their second straight. Memphis missed 33 of its first 42 shots to fall behind by 16 points in the second quarter.
Bulls 95, Pistons 82
In Chicago, Derrick Rose scored 29 points and Carlos Boozer added 27 points and 11 rebounds to rally Chicago past Detroit.
Luol Deng added 17 points and eight rebounds for the Bulls, who have won seven straight home games.
The Bulls erased Detroit's 12-point halftime lead midway through the third quarter behind Boozer. He scored nine quick points to even the score at 61 with 4:54 left in the quarter.
Tayshaun Prince scored 15 points and Austin Daye added 14 for the struggling Pistons, who fell to 3-17 on the road.
Pistons guard Richard Hamilton played, despite his name circulating in a blockbuster three-team trade centering around Carmelo Anthony.
The reported deal would reunite Chauncey Billups and Hamilton in New Jersey along with Anthony.
Hamilton finished with two points off the bench, shooting 0-for-5 from the field.
Comments will be moderated. Keep comments relevant to the article. Remarks containing abusive and obscene language, personal attacks of any kind or promotion will be removed and the user banned. Final decision will be at the discretion of the Taipei Times.