NHL: Vancouver keep rolling, cruise past Stars to win
ROAD WARRIORS: Daniel and Henrik Sedin both scored to help the Canucks continue their red-hot play, as the squad have gone without a road loss in their past 16 games
The Vancouver Canucks prevailed in a clash of divisional leaders, beating the Dallas Stars 4-1 on Friday to notch a fourth straight win.
Daniel and Henrik Sedin scored power-play goals and Cory Schneider made 44 saves for the Canucks.
Daniel Sedin and Raffi Torres had goals in a 47-second span late in the first period, as Vancouver went on to improve to 13-1-2 in their last 16 games, 6-0-1 on the road during that stretch.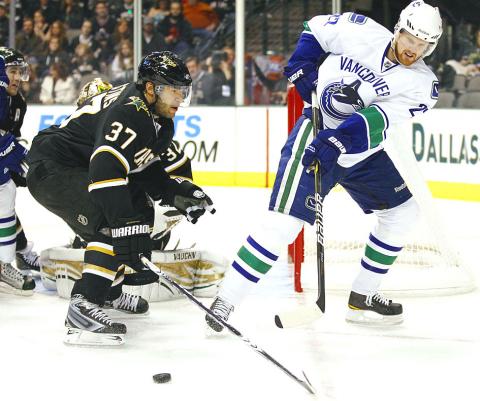 Canucks left wing Daniel Sedin passes the puck as Stars defenseman Karlis Skrastins defends during their game on Friday in Dallas, Texas.
Photo: Reuters
Kevin Bieksa added a power-play goal for the Canucks.
Brenden Morrow had a power-play goal for Dallas.
Ducks 5, Flyers 2
In Anaheim, California, Jason Blake and defenseman Lubomir Visnovsky each scored two goals as Anaheim beat Philadelphia.
Jonas Hiller made 35 saves, while Bobby Ryan also scored for the Ducks, who began a six-game homestand.
Ducks captain Ryan Getzlaf missed the game because of multiple nasal fractures after getting hit in the forehead by a deflected slap shot on Tuesday against Phoenix.
Andreas Nodl and Jeff Carter scored for Philadelphia.
Flames 3, Avalanche 2
In Calgary, Canada, the home team made it three straight wins by edging Colorado.
Tom Kostopoulos, Jarome Iginla and Tim Jackman scored in a 7 minute, 30 second-span in the second period and that was enough to win.
Daniel Winnik and Tomas Fleischmann had third-period goals for the Avalanche.
Predators 4, Wild 1
In St Paul, Minnesota, Pekka Rinne made 22 saves to help Nashville end their losing streak at five games.
Cody Franson, Patric Hornqvist, Joel Ward and Sergei Kostitsyn scored for Nashville. Struggling offensively, the Predators have scored nine goals in their past six games.
Chuck Kobasew scored late for Minnesota, which was booed off the ice after the second period and the game. The Wild have won only three of their past 10 home games.
In Friday's other action, it was:
‧ Blue Jackets 4, Senators 3, OT
‧ Canadiens 3, Panthers 2, OT
‧ Devils 3, Thrashers 1
‧ Blues 4, Coyotes 3
‧ Islanders 4, Red Wings 3, OT
Comments will be moderated. Keep comments relevant to the article. Remarks containing abusive and obscene language, personal attacks of any kind or promotion will be removed and the user banned. Final decision will be at the discretion of the Taipei Times.