Pacquiao to fight Mosley on May 7, promoter says
Manny Pacquiao plans to fight Shane Mosley in his next bout on May 7 in Las Vegas.
Promoter Bob Arum said on Tuesday that the deal would be done after Mosley's lawyers approve the final paperwork for the WBO welterweight title fight at the MGM Grand Garden Arena.
Arum says Pacquiao chose the bout because Mosley is the most accomplished and famous boxer in the field of candidates, which included Juan Manuel Marquez and welterweight champion Andre Berto.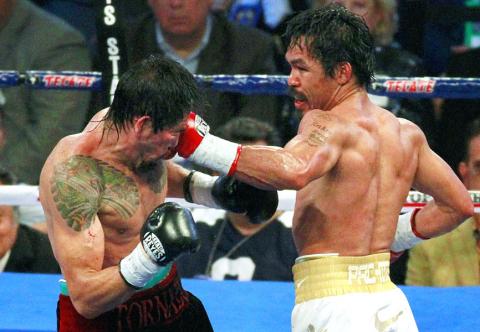 Antonio Margarito of Mexico is hit with a left by Manny Pacquiao, right, of the -Philippines in the fifth round of their 12-round WBC world super welterweight title -boxing fight in Arlington, Texas, on Nov. 13.
PHOTO: REUTERS
"He's the most recognizable name, and it's a difficult fight for him," said Arum, who met with Pacquiao in the Philippines last week. "People are also saying, 'Well, why hasn't he fought an African-American fighter?' He's doing that, but mostly it's because Mosley is the biggest name."
Pacquiao also realizes a potential superbout with Floyd Mayweather Jr is likely still impossible because of the Mayweather family's various legal troubles.
Pacquiao (52-3-2, 38 KOs) is on top of the boxing world after trouncing Antonio Margarito in a one-sided decision in Texas on Nov. 13. The 32-year-old Filipino congressman has won 13 straight fights while claiming world titles in an astonishing eight weight classes, most recently taking the WBC light middleweight belt with his win over Margarito.
Arum realizes he could have trouble selling a fight against a 39-year-old opponent who will be nearly two-and-a-half years removed from his last victory when he faces Pacquiao, but believes Mosley's skill and speed will challenge Pacquiao.
"That was obviously a negative, but Shane Mosley is capable of doing great things," Arum said.
Mosley (46-6-1, 39 KOs) is near the tail end of a remarkable career that began in 1993. The former three-division champion has won just two of his past five fights, getting walloped by Mayweather in a unanimous decision last May before fighting to a dull draw with Sergio Mora on Sept. 18.
KLITSCHKO VS HAYE
AP, LONDON
David Haye is offering Wladimir Klitschko a 50-50 split of the earnings to secure a heavyweight fight next year.
A back injury forced Haye, the WBA champion, to withdraw from a fight with the younger of the Klitschko brothers last year. Haye has since been unable to negotiate another matchup with the Ukrainian boxer, who holds the IBF and WBO belts.
The major stumbling block was believed to have been how to split the purse, but Haye and his management team said on Tuesday they have offered Klitschko "50-50 on everything."
Haye said there was no reason why their much-anticipated fight shouldn't take place next year.
Comments will be moderated. Keep comments relevant to the article. Remarks containing abusive and obscene language, personal attacks of any kind or promotion will be removed and the user banned. Final decision will be at the discretion of the Taipei Times.