NHL: Stars clinch first place in West
ROAD RASH: The Montreal Canadiens are not doing so well on the road, as they lost two in a row in their longest stretch of travel during this hockey season
The surging Dallas Stars took sole possession of first place in the Western Conference with a 5-2 win over the slumping Montreal Canadiens.
With their third win in a row, Dallas moved a point ahead of idle Detroit atop the West. The Canadiens have lost the first two games of a season-long seven-game road trip, and five of their last six games.
The Stars raced to a 3-0 lead with goals from Adam Burish and Jamie Benn in the first period and Karlis Skrastins early in the second.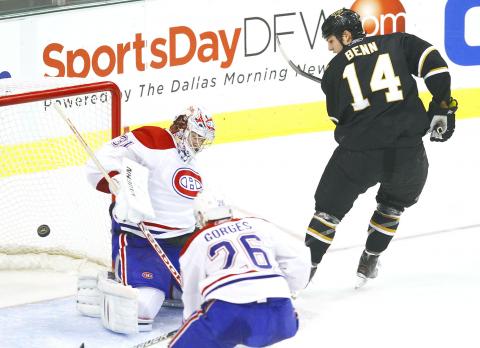 The puck flies past Montreal Canadiens goaltender Carey Price, left, as Dallas Stars left wing Jamie Benn, right, scores in the first period of their NHL game in Dallas, Texas, on Tuesday.
PHOTO: REUTERS
Mathieu Darche replied for Montreal midway through the second period but Richards restored the Stars' three-goal lead at 17 minutes.
Brian Gionta scored a short-handed goal for Montreal at 12 minutes, 15 seconds of the final period before Loui Eriksson put the seal on a 5-2 win with Dallas's last goal a minute later.
Kari Lehtonen made 27 saves for the Stars while Habs netminder Carey Price had only 12 saves on 17 shots.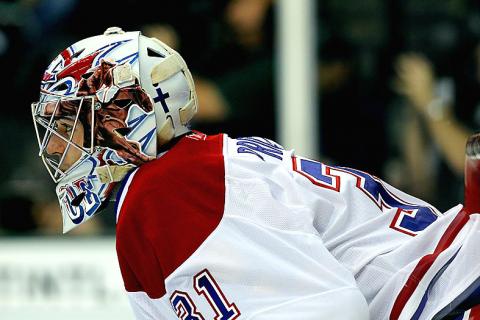 Montreal Canadiens goaltender Carey Price guards against the Dallas Stars in Dallas, Texas, on Tuesday.
PHOTO: AFP
KINGS 5, AVALANCHE 0
In Denver, Colorado, Los Angeles terminated Colorado's six-game winning streak.
Jonathan Quick stopped 23 shots for his third shutout of the season, while Dustin Brown had two goals and two assists for the Kings. Rob Scuderi had a goal and an assist, while Brad Richardson also netted.
Colorado had scored in its previous 55 games, dating back to February.
BLUES 4, THRASHERS 2
In Atlanta, Georgia, Ty Conklin stopped 37 shots as St Louis recorded an upset win over Atlanta.
Alexander Steen gave St Louis the lead with a goal late in the second period and led 3-1 before Dustin Byfuglien scored for the Thrashers with seven minutes, 23 seconds remaining.
Atlanta got a power play with one minute, 58 seconds left and pulled goalie Chris Mason for an extra skater, but an empty-net goal by Vladimir Sobotka in the final minute clinched the win for the Blues.
Brad Boyes and Alex Pietrangelo also scored for St Louis.
Bryan Little scored Atlanta's first goal in the first period.
SABRES 5, DUCKS 2
In Buffalo, New York, Tyler Ennis scored two goals to lift Buffalo over Anaheim.
Ryan Miller, making his 11th straight start, earned his 199th NHL win. His shutout bid was spoiled when Corey Perry scored late for the Ducks. Miller finished with 21 saves while Perry got both Anaheim goals. Craig Rivet had a goal and assist, while Drew Stafford and Nathan Gerbe also scored for the Sabres.
SHARKS 2, OILERS 1
In San Jose, California, Logan Couture and Dan Boyle scored three minutes, 28 seconds apart in the second period, leading San Jose past Edmonton.
The Sharks posted their first run of three straight wins this season.
Dustin Penner scored for the Oilers, who had won three in a row on the road.
BLUE JACKETS 3, FLAMES 1
In Columbus, Ohio, the hosts snapped a four-game losing streak by beating Calgary.
Mathieu Garon made 29 saves in his debut as the Blue Jackets' No. 1 goalie, having taken over the starting job from the struggling Steve Mason.
Columbus' goals came from Jakub Voracek, Jared Boll and Rostislav Klesla. Olli Jokinen had the lone goal for Calgary, which lost its third straight.
CAPITALS 5, DEVILS 1
In Washington, Andrew Gordon had a goal and assist for his first two NHL points as Washington downed New Jersey.
John Carlson added a goal and an assist for the Capitals, who moved above Atlanta back into first place in the Southeast Division.
The Devils, who have the second-worst record in the NHL, dropped their ninth straight road game and third overall. New Jersey got even at 1 when Patrik Elias scored in the second period, but the Capitals took then took over.
Comments will be moderated. Keep comments relevant to the article. Remarks containing abusive and obscene language, personal attacks of any kind or promotion will be removed and the user banned. Final decision will be at the discretion of the Taipei Times.