NBA: Under-strength Bucks humiliate Lakers
LOS ANGELES LICKED: With a stunning victory in their sights and the Lakers being booed by sections of the sell-out crowd, Milwaukee produced a rousing finish
NBA champions the Los Angeles Lakers were left stunned and humiliated after they were upset 98-79 on their home court by an under-strength Milwaukee Bucks on Tuesday.
Back in familiar surroundings after winning five of their last six games on the road, the Lakers were unable to maintain any consistency against a team missing pivotal point guard Brandon Jennings through injury.
Earl Boykins scored a game-high 22 points off the bench for the Bucks, including four three-pointers, while guard John Salmons contributed 20 points and forward Ersan Ilyasova 17.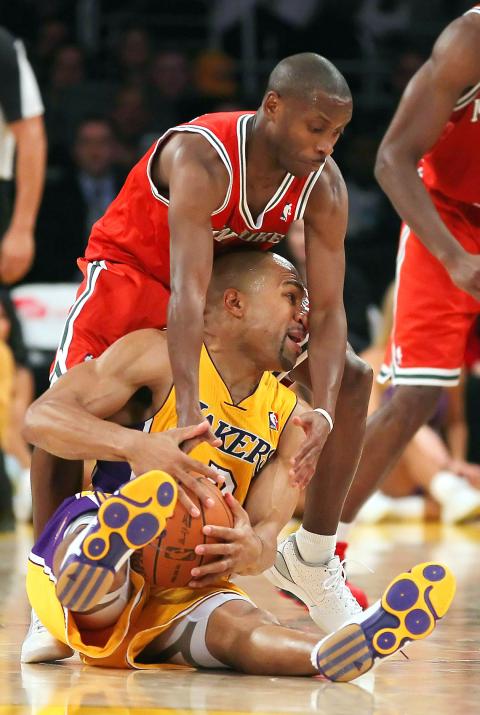 Earl Boykins of the Milwaukee Bucks, top, ties up Derek Fisher of the Los Angeles Lakers during the second half of their game at the Staples Center in Los Angeles on Tuesday.
PHOTO: AFP
It was an inspirational all-round performance by the visiting team, who were playing only their second game since Jennings was sidelined for at least four weeks with a broken left foot.
All-Star guard Kobe Bryant was restricted to 21 points for the Lakers, who shot only 46 percent from the field on a forgettable night compared with Milwaukee's 51 percent.
Spanish forward Pau Gasol added 15 points and Lamar Odom 12 as Los Angeles slipped to 21-8 for the season.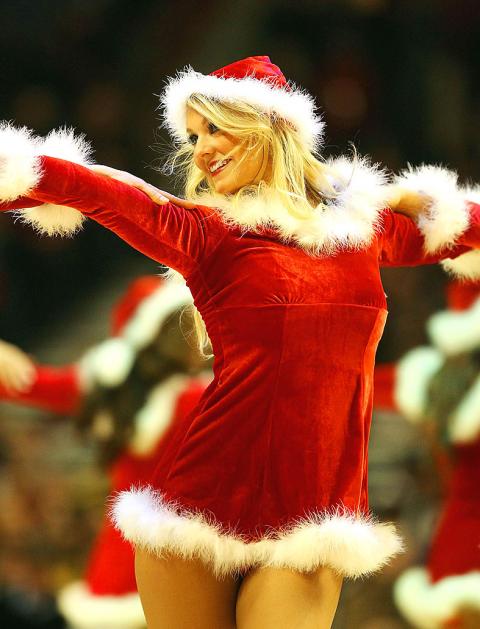 A member of the Chicago Bulls dance team "The LuvaBulls" performs during their game against the Philadelphia 76ers at the United Center in Chicago on Tuesday.
PHOTO: AFP
The Bucks, who had lost their previous three games, made a surprisingly strong start, twice leading by seven points, before ending the first quarter 25-22 ahead.
Bench players Shannon Brown and Matt Barnes helped spark a Los Angeles fightback early in the second quarter, before a sloppy spell left them trailing 50-46 at halftime.
The Lakers again clawed their way back, a Gasol fall-away jump shot tying the score at 63-63, before the Bucks ended the third quarter with four unanswered points and a 72-66 lead.
With a stunning victory in their sights and the Lakers being booed by sections of the sellout crowd, Milwaukee produced a rousing finish.
Reserve guard Boykins poured in two three-pointers, before an Andrew Bogut reverse layup with 4 minutes, 26 seconds left on the clock gave the Bucks a 13-point advantage — the biggest of the night.
Another Boykins three-pointer put the visitors up 92-77, before Bryant was ejected from the game for a second technical foul as disenchanted Lakers fans streamed for the exits.
The humbled Lakers will face their biggest test of the season on Saturday when they host LeBron James and the Miami Heat in a Christmas Day showdown.
The Bucks are next in action on today in a road game against the Sacramento Kings.
MAVERICKS 105, MAGIC 99
In Orlando, Florida, the Dallas Mavericks became the latest team to topple the reconstructed Orlando Magic.
Caron Butler scored 20 points and Dirk Nowitzki had 17 to help the Mavericks pull away in the fourth quarter for their 16th win in 17 games. A night after ending Miami's 12-game streak, Dallas shot 50 percent from the floor, including 46 percent from three-point range.
The Magic have lost their first two games since Gilbert Arenas, Jason Richardson and Hedo Turkoglu were acquired on Saturday, and eight of their past nine.
Dwight Howard had 26 points and 23 rebounds, but got little help from his teammates.
THUNDER 99, BOBCATS 81
In Charlotte, North Carolina, Oklahoma City overcame a poor shooting night by dominating the fourth quarter in a victory over reeling Charlotte.
The Thunder entered the final period trailing 69-68, but responded with a 25-3 run. The Bobcats missed their first 11 shots, committed five turnovers and didn't get their first field goal until 2 minutes, 52 seconds remained, producing sarcastic cheers.
Oklahoma's Kevin Durant scored 32 points, hitting 14-of-16 free throws and adding seven rebounds.
Stephen Jackson scored 20 points for the Bobcats, who dropped their fourth straight as coach Larry Brown continues to question their effort.
BULLS 121, 76ERS 76
In Chicago, the home team beat Philadelphia for their eighth win in nine games.
Despite missing big men Joakim Noah and Taj Gibson, Chicago dominated nearly every offensive category and recorded their most lopsided win of the season.
Derrick Rose and Luol Deng each scored 22 points. Rose also had 12 assists for his seventh double-double.
Andre Iguodala scored 17 points for Philadelphia.
Tuesday's other results:
‧ Nets 101, Grizzlies 94
‧ Warriors 117, Kings 109, OT
Comments will be moderated. Keep comments relevant to the article. Remarks containing abusive and obscene language, personal attacks of any kind or promotion will be removed and the user banned. Final decision will be at the discretion of the Taipei Times.