Lochte ends on golden note in Dubai
Ryan Lochte doubled his gold medal haul to six and took his overall medal tally to a record 21 on the final session at the short course world championships in Dubai on Sunday.
The American set a new championship best time of 1 minute, 46.68 seconds in the 200m backstroke, followed by an all-out effort in the 100m individual medley in a time of 50.86 seconds, meaning that Lochte achieved a gold medal in every individual event he contested. He was also part of the victorious 4x100 medley relay team that signed off the championships with a final gold, bringing the US medal tally to 25 overall, with 12 golds.
Lochte smashed two world records earlier in the meet in imperious fashion, but his punishing schedule took its toll and he admitted to feeling tired.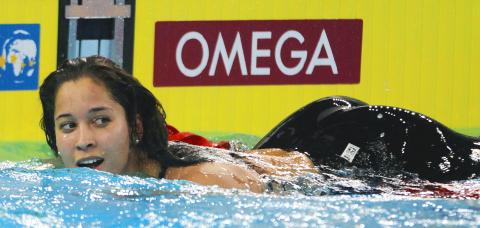 Ranomi Kromowidjojo of the Netherlands reacts after winning the women's 50m freestyle gold medal during the 10th FINA World Short Course Swimming Championships on Sunday in Dubai, United Arab Emirates.
PHOTO:AFP
"I think I could have gone a lot faster [in the 200m backstroke]. I gave it my best shot," he said. "In the 100m individual medley I just went for it. I felt it a lot in my legs after the 200m backstroke, but it's around the same time I went in the semi, so I'll take it."
He broke the all-time record for medals won at a short course world championship, with a total of 21, four more than Therese Alshammar's former record of 17.
Rebecca Soni took home another three golds for the US after claiming the breaststroke treble and three championship records to boot.
She won the 200m breaststroke on Saturday to add to her 50m and 100m titles in the same event.
The US world record holder was chased all the way to the line by Chinese swimmer, Ye Sun, but Soni's 2 minutes, 16.39 seconds was too fast. Sun finished in 2 minutes, 18.09 seconds, while Rikke Moller Pedersen of Denmark won bronze in 2 minutes, 18.82 seconds.
Australian supporters were finally treated to a winning performance from one of their athletes when Felicity Galvez turned the tables on Sweden's Therese Alshammar in the 100m butterfly.
Alshammar had claimed the 50m version of the event by 0.01 seconds, but in the longer distance Galvez finished too strongly for her.
Brazil's athletes went home with three gold medals after sprint star Cesar Cielo doubled up in the 50m freestyle and Sunday's 100m freestyle. Felipe Silva was then the shock winner of the 50m breaststroke in a championship record, setting a 25.95 second mark.
South Africa's world record-holder, Cameron van der Burgh, missed out, claiming silver while Fabio Scozzoli took bronze.
South Africa fared better in the men's 200m butterfly with Chad Guy Bertrand Le Clos powering from fourth to first to finish in 1 minute, 51.56 seconds, ahead of another Brazilian, Kalo Almeida and Hungary's Laszlo Cseh.
There were riotous celebrations when Tunisia's Oussama Mellouli claimed 1500m gold in 14 minutes, 24.19 seconds. He also takes home a 200m freestyle bronze, 400m individual medley silver and 400m freestyle bronze.
There was a Dutch one-two in the 50m freestyle when Ranomi Kromowidjojo's 23.37 seconds in the 50m freestyle earned her a second gold medal of the meet, while Schreuder Hinkelein's 23.81 seconds was good enough for silver. Arianna Vanderpool-Wallace of the Bahamas won her country's first short-course world championship medal — bronze in 24.08 seconds.
Comments will be moderated. Keep comments relevant to the article. Remarks containing abusive and obscene language, personal attacks of any kind or promotion will be removed and the user banned. Final decision will be at the discretion of the Taipei Times.