Vonn returns to form at Val d'Isere, Riesch falters
US skier Lindsey Vonn won her first downhill race of the season at Val d'Isere yesterday to close the gap on overall World Cup leader Maria Riesch.
Vonn, the three-time defending World Cup champion and reigning Olympic downhill champion, had finished second behind her German rival in both downhills at Lake Louise two weeks ago, but turned the tables at one of her favorite resorts.
Despite a wobble near the top section of the 2.8km Oreiller-Killy course, Vonn finished in a time of 1 minute, 51.42 seconds.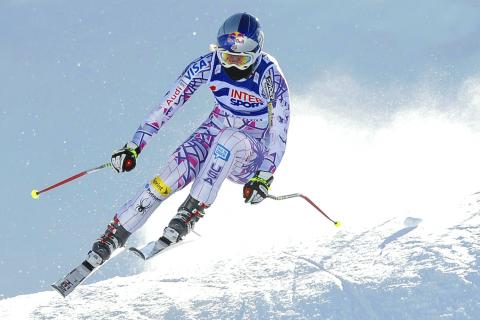 Lindsey Vonn of the US negotiates the course during the World Cup women's downhill in Val d'Isere, France, yesterday.
PHOTO: EPA
"I love Val d'Isere, I've always had a good feeling here. It's great to have another victory," Vonn said.
Vonn has a prolific record at Val d'Isere, whatever the slope she races on.
She won World Cup downhill races in 2005 and 2006, along with a downhill-Super-G world championship double and a World Cup super combined race last year.
This time, she made a spectacular recovery after nearly crashing on the turn just below the second jump.
She feared that slip would cost her, only for Riesch to fare much worse than expected.
"I made a big mistake at the top, but I tried to make up time on the bottom and I think I skied pretty well on the turns," Vonn said. "At the finish, I thought it was a good time, but for sure Maria would beat me."
Swiss pair Nadja Kamer and Lara Gut were second and third respectively.
Vonn was 0.001 seconds down on Kamer at the second time split, but picked up speed on the second part of the course to beat her by 0.68 seconds and the 19-year-old Gut by 0.8 seconds.
Riesch started poorly in soft conditions and kept losing more time to Vonn, finishing 2.28 seconds adrift in a lowly 24th place.
Vonn's win moves her top of the downhill standings ahead of Riesch, who leads Vonn by 52 points in the overall standings ahead of today's super combined race.
The clear blue skies and bright sunshine were a stark contrast to Friday's weather when the super-G race — already postponed last weekend at the Swiss resort of St Moritz — was called off again because of heavy snowfall and almost no visibility.
Riesch's run went from bad to worse.
She was 1.09 seconds behind Vonn on the first time split, then 1.1 seconds and 1.95 seconds.
Moments after crossing the line, Riesch looked startled, shrugged her shoulders and then bowed her head.
Andrea Dettling was one of the first down and she crashed near the top section, flying sideways into the netting, but the Swiss skier got back up on her feet after a few seconds without any assistance and appeared unharmed.
MEN'S DOWNHILL
AFP, VAL GARDENA, ITALY
Switzerland's Silvan Zurbriggen won the men's downhill in Val Gardena yesterday for his second ever World Cup victory and went top of the overall standings.
The 29-year-old Olympic combined and world slalom medalist — a distant cousin of Swiss great Pirmin Zurbriggen — beat Austria's Romed Baumann by 0.06 seconds, while Swiss veteran Didier Cuche was third, 0.1 seconds adrift.
Friday's Super-G victor, Michael Walchhofer — a master of the course having recorded four wins — finished fifth, 0.35 seconds back.
Zurbriggen, holds a 21-point lead over Walchhofer in the overall standings.
Comments will be moderated. Keep comments relevant to the article. Remarks containing abusive and obscene language, personal attacks of any kind or promotion will be removed and the user banned. Final decision will be at the discretion of the Taipei Times.