NFL: Jaguars look to dethrone archrivals the Colts
The Jacksonville Jaguars have a chance to dethrone AFC champions Indianapolis and clinch a division ruled seemingly forever by Peyton Manning and the Colts — if they beat them today.
"This is a big opportunity for the franchise," Jaguars guard Uche Nwaneri said. "It's been a long time since we had a game against the Colts where it's really going to pretty much decide everything for the division. We're not going to make this something that takes us out of our rhythm, but we understand what's on the line and we're looking forward to the challenge."
The Jaguars are built around a ball-control offense, led by running back Maurice Jones-Drew, and a defense designed to make the Colts one-dimensional. They hired an unyielding coach who thrives on physical football and yet it's never been quite enough to take down the Colts. Until now, maybe.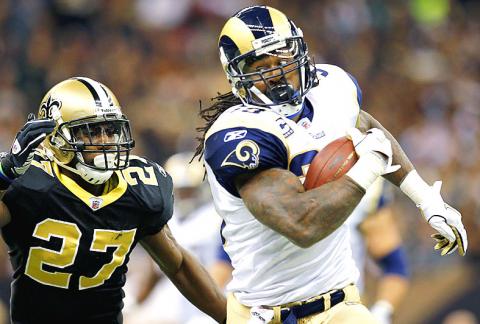 St Louis Rams running back Steven Jackson, right, runs for a first down against the New Orleans Saints during their game in New Orleans last Sunday.
PHOTO: REUTERS
A win would make Jacksonville the first team other than Indianapolis or Tennessee to win the AFC South crown since the division's creation in 2002. Plus, the Jaguars could be celebrating the title on their nemesis' home field.
It's a potentially sweet scenario, but one the Jags prefer to downplay as they visit a city where they have won only twice.
The New England Patriots, who host the Green Bay Packers, are the only team already into the NFL playoffs.
Four other division leaders beside the Jaguars — the Pittsburgh Steelers, Atlanta Falcons, New York Giants and Chicago Bears — can earn playoff spots this weekend. The Patriots and Steelers even could gain first-round byes.
Among the marquee matchups in week 15, Missouri neighbors the Kansas City Chiefs and the St Louis Rams meet with a victory going a long way to boosting each other's playoff bids.
Kansas City, with an 8-5 record, have a half-game lead over the San Diego Chargers — 8-6 after their 34-7 home victory over San Francisco on Thursday — in the AFC West with three games remaining, all against mediocre teams. The Chiefs have lost five of seven road games, while the Rams, joint leaders of the NFC West with Seattle, are 4-2 at home.
The Chiefs have a nine-game winning streak against NFC West teams since 2002, including 3-0 this year, and they could get back quarterback Matt Cassel, who missed last week's loss at San Diego because of an appendectomy. They desperately need him considering backup Brodie Croyle has never won an NFL start.
The Rams' offense is awakening and their defense has been formidable for much of this turnaround season — they were 1-15 last year. Top draft pick Sam Bradford needs 116 yards passing to become the third rookie in NFL history with 3,000 yards, while Steven Jackson has rushed for more than 1,000 yards for the sixth straight year.
"I think the team's at a state of mind where we feel confident enough that these next three games we can compete," Jackson said. "That's what you want to see. You don't want to see guys walking around afraid to make a mistake or allowing the pressure to kind of put them in a bad spot."
The Philadelphia Eagles visit the Giants with identical 9-4 records. Neither would be eliminated with a loss and they would remain strong contenders for a playoff wild-card berth. Indeed, neither team can clinch the NFC East with a win at the Meadowlands, but the Eagles get a big jump if they can sweep New York and win their sixth in a row against the Giants, including in the playoffs.
The Giants are banged-up at receiver — losing go-to target Steve Smith for the season is damaging — but they are running the ball crisply with Brandon Jacobs and Ahmad Bradshaw. No defense is equipped better to keep the reins on Eagles passer Michael Vick, but his favorite receiver DeSean Jackson, if healthy, is a nightmarish matchup for New York's secondary.
Today's lineup also sees the New York Jets at Pittsburgh, New Orleans at Baltimore, Atlanta at Seattle, Detroit at Tampa Bay, Buffalo at Miami, Denver at Oakland, Arizona at Carolina, Washington at Dallas, Houston at Tennessee and Cleveland at Cincinnati. Tomorrow, Chicago are at Minnesota.
Comments will be moderated. Keep comments relevant to the article. Remarks containing abusive and obscene language, personal attacks of any kind or promotion will be removed and the user banned. Final decision will be at the discretion of the Taipei Times.