Yanks seal US$51m deal with Jeter
The New York Yankees have finalized a US$51 million, three-year contract with captain Derek Jeter.
The Yankees scheduled a news conference for Tuesday at their spring training complex to announce the deal.
The shortstop and the club reached a preliminary agreement Saturday on the deal, which also includes an US$8 million player option for 2014.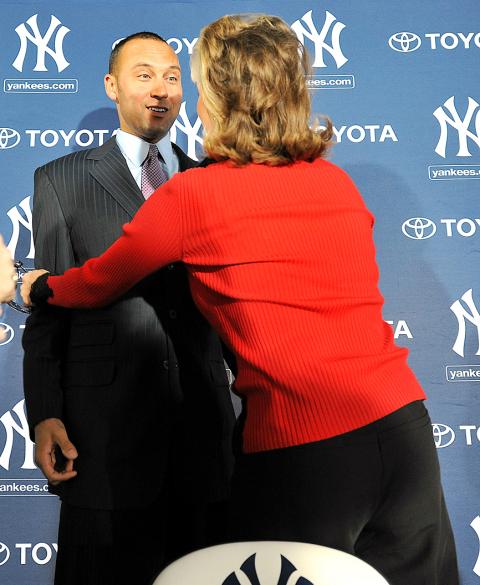 New York Yankees shortstop Derek Jeter gets a hug from Jennifer Steinbrenner-Swindal during a press conference to announce his new contract with the club in Tampa, Florida, on Tuesday.
PHOTO: AFP
Jeter was coming off a US$189 million, 10-year contract. He was initially offered a US$45 million, three-year deal.
Jeter had a .270 batting average with 10 homers this past season, down from a .334 average and 18 homers the previous season. While his RBIs increased by one to 67, his on-base percentage fell from .406 to .340 and his slugging average dropped from .465 to .370.
He gets salaries of US$15 million next year, US$16 million in 2012 and US$17 million in 2013, with US$2 million annually deferred and payable on each March 15 over three years starting in 2015.
The guaranteed portion of the contract includes a US$3 million buyout if the option is declined. If it is exercised, Jeter would earn US$56 million over four seasons.
The player option can escalate up to US$17 million. The amount depends on a points system. He earns points based on if he finishes anywhere among top six in AL MVP voting and if he wins World Series MVP, league championship series MVP, Gold Glove or Silver Slugger awards. If he earns the maximum, he would get US$65 million over the four years.
IWAKUMA TALKS FAIL
The Oakland Athletics showed a lack of respect for Japanese pitcher Hisashi Iwakuma during recent failed talks, his agent said yesterday.
The highly rated 29-year-old has returned to Japan's Rakuten Eagles after negotiations with the A's broke down despite an offer of around US$15 million for four years.
"Their offer was low, they weren't sincere," Iwakuma's agent Don Nomura told Japanese media. "They thought we would just cave in, but we didn't want to set a bad precedent for the next player who goes [to Major League Baseball]."
Iwakuma, who helped Japan retain their World Baseball Classic title in Los Angeles last year, had reportedly asked for a seven-year package worth a whopping US$125 million.
Under the Japanese posting system, Iwakuma is unable to join another MLB club until next November as Oakland won the right to negotiate exclusively with the right-hander.
Nomura hit out at Oakland after the 30-day window closed.
"They knew he was just one year away from free agency and they never showed any respect," Nomura said.
The Eagles made no secret of their relief to get their top pitcher back for another season.
"It's sad for him because it was his dream," Eagles team representative Jun Yoneda said. "But it's huge for us of course because he's a big part of our plans."
Iwakuma, the former Japanese Pacific League MVP, went 10-9 with a 2.82 ERA for the struggling Eagles this year, with four complete games and a shutout.
Comments will be moderated. Keep comments relevant to the article. Remarks containing abusive and obscene language, personal attacks of any kind or promotion will be removed and the user banned. Final decision will be at the discretion of the Taipei Times.