Russia, Qatar clinch World Cup
Russia and the Gulf state of Qatar scored stunning victories in the battle for the 2018 and 2022 World Cups on Thursday after an acrimonious bidding war tainted by allegations of corruption.
In a historic conclusion to two years of frenzied lobbying, world soccer chief Sepp Blatter revealed the surprise winners following a secret ballot of 22 FIFA executive committee members in Zurich.
The announcement means the World Cup will be staged in two countries that have never hosted the event before following the 2014 tournament in Brazil.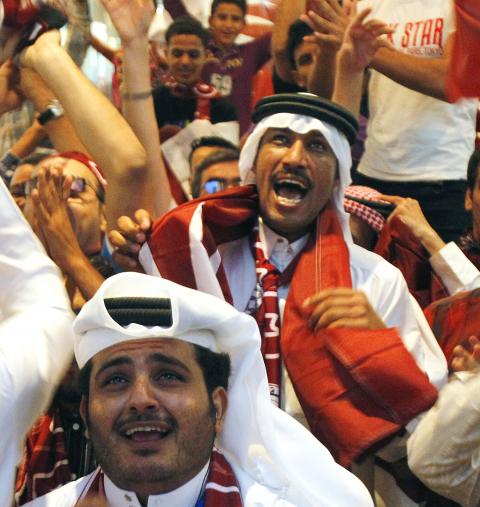 Qatari journalists and fans react in the southern Yemeni port city of Aden on Thursday after the announcement that Qatar will host the 2022 World Cup. Russia won the right to put on the 2018 World Cup and Qatar will stage the 2022 finals, making both first-time hosts, FIFA president Sepp Blatter said on Thursday.
Photo: REUTERS
Russia prevailed in the 2018 race after upsetting England — who were knocked out in the first round of voting after mustering a mere two votes — and joint bids from Spain/Portugal and Belgium/Netherlands.
The outcome represented an unexpected comeback for Russia, whose campaign was thought to be in trouble after Russian Prime Minister Vladimir Putin declined to join the lobbying effort in Switzerland.
Putin, however, jetted into Zurich late on Thursday to congratulate FIFA and the Russian bid team on the result.
"A 2018 World Cup will be up to the highest standards, new modern stadiums will be built in time and to perfection: We are eager to do our best for the comfort and safety of our guests," Putin said. "We are honored by your decision. From the bottom of my heart, thank you. Soccer is popular all over the world, especially in Russia."
However, the shock of the day came in the 2022 race, where Qatar beat off stiff competition from the US, Australia and Asian rivals South Korea and Japan in a remarkable result.
Qatar 2022 bid president Mohammed bin Hamad al-Thani said his country's victory had defied the odds.
"We started off being written off, being the unconventional bid. And no-one thought we had a chance to win," he said. "On behalf of millions living in the Middle East, thank you FIFA for having such bold vision. We have a date with history which is summer 2022."
Qatar's win came despite serious reservations being raised by a FIFA technical report about the logistical problems of staging the soccer tournament in the Gulf during the searing heat of the summer months.
Although the Qataris have promised to build an array of state of the art stadia that will keep players and fans in a cool, climate-controlled environment, the technology has never been tested on a large scale before.
Al-Thani dismissed concerns about the climate as "misconceptions."
"One of the most important misconceptions was that Qatar cannot do it because it is too hot," he said.
Yet it seems Qatar, who have never played in a World Cup, will have its work cut out convincing skeptical fans of its worthiness to host the tournament.
Even US President Barack Obama, who had recorded a personal appeal in support of the beaten US bid, criticized the FIFA ruling.
"I think it was the wrong decision," Obama told reporters in Washington.
Thursday's results brought the curtain down on one of the most controversial World Cup votes in years, with FIFA facing myriad allegations of corruption which led to two executive committee members being suspended.
An ill-tempered climax to the campaign saw Spanish and Russian officials issue veiled attacks on England earlier on Thursday as the respective bids made their final presentations to FIFA voters.
Spanish FIFA member Angel Villar Llona attacked British media reports that exposed alleged corruption within the organization, describing them as "slander."
England 2018 officials were left dejected after a heavyweight lobbying offensive led by British Prime Minister David Cameron, heir to the British throne Prince William and soccer icon David Beckham had little effect.
"According to FIFA we had the best technical team, no one could identify any risks of coming to England. I think we had the strongest commercial bid and the country is passionate about football," Cameron told reporters. "But it turns out that's not enough."
Adding insult to injury, it later emerged England had been eliminated in the first round of voting.
"What did we expect? FIFA, as far as I'm concerned, is full of people who say 'yes' to your face and 'no' behind your back," former England manager Graham Taylor told BBC radio. "England have little or no influence."
Spain's World Cup winning coach, Vicente del Bosque, congratulated both Russia and Qatar, but said "we had all conditions to organize the World Cup," mentioning the sporting facilities in a "modern country" that has a "passion" for soccer.
"We also have a good league, we have extraordinary players, including our own, who are world champions. But I suppose that [members of FIFA's executive committee] had different criteria from us," he said.
Comments will be moderated. Keep comments relevant to the article. Remarks containing abusive and obscene language, personal attacks of any kind or promotion will be removed and the user banned. Final decision will be at the discretion of the Taipei Times.