Ski stars insist rivalry robust, not resentful
Lindsey Vonn and Julia Mancuso each posed provocatively for the same magazine. The US Olympic medalists also both shot enticing scenes for ski films. It's almost as if anything one can do the other can do better. Yet both insist this rivalry is more healthy than hostile.
They may not be the best of buddies, or travel in the same circles, but it's a relationship built on respect, not resentment, despite all the rumors and reports.
Their so-called rift is laughable to Vonn, who dismissed the notion of disharmony between the two.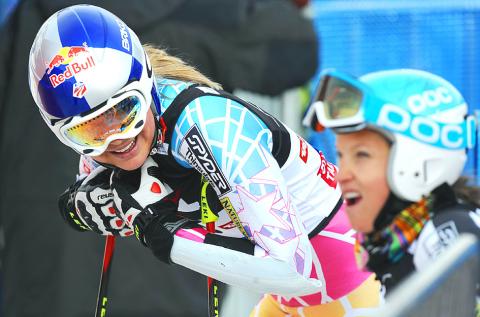 Lindsey Vonn, left, jokes with Julia Mancuso after the first run of the women's giant slalom at the FIS World Cup on Oct. 23 in Soelden, Austria.
PHOTO: AFP
Sure, Vonn and Mancuso competed with each other at the Vancouver Olympics for medals and media exposure but there's no bad blood.
"I've never said a bad word about her," said Vonn, who, along with Mancuso, will race this weekend as the World Cup makes its annual stop in Aspen. "It's disappointing sometimes the things people choose to write about. We've always supported each other."
Mancuso said it's been beneficial to see what her top rival is up to on a regular basis, a luxury she has with Vonn training so close.
"You know where you are," Mancuso said. "You know if you need to be faster, because she's always training fast. It's good to have that."
The two put on quite a show in Whistler, Vonn winning her signature event, the downhill, and Mancuso taking the silver to give the US its first 1-2 finish in any Olympic Alpine event since 1984.
Mancuso also captured the silver in the super combined, while Vonn added a bronze in the super-G.
Things turned a little testy in the giant slalom when Vonn wiped out, touching off quite a chain reaction. With Vonn down, Mancuso, who was in the middle of a solid run, was waved off the course by officials.
Mancuso, the defending Olympic champion in the event, was then brought back up to the top by a snowmobile for another run.
Soon after, Mancuso posted a terse tweet: "that yellow flag in the GS was such ... I just want to scream. I'm really miffed. Anyway, gotta take that energy and focus it for 2nd run."
Later, after the race had played out and she ended up eighth, Mancuso posted another tweet: "been hearing lots of people thinking I'm mad at Lindsey for crashing ... thats just ridiculous! bummed about the situation ... not Lindsey."
Both skiers cashed in on their success after departing Whistler.
Mancuso changed skis, switching from Rossignol to the German brand Voelkl, and signed a deal with Spyder to design apparel, which will feature a collaboration with her own lingerie line, "Kiss my Tiara."
She also posed nude for ESPN The Magazine's Body Issue.
Vonn's offseason was just as adventurous. She shot commercials for sponsors such as Under Armour, was picked for Maxim's "Hot 100" list and filmed a scene for her favorite show, Law and Order.
She also took part in a photo shoot for ESPN The Magazine, appearing on the cover as she re-enacted a Sharon Stone scene from Basic Instinct.
Comments will be moderated. Keep comments relevant to the article. Remarks containing abusive and obscene language, personal attacks of any kind or promotion will be removed and the user banned. Final decision will be at the discretion of the Taipei Times.