Taiwan show Hong Kong no mercy
Taiwan upped their record in the Pool B baseball preliminaries to 2-1 at the Asian Games in Guangzhou yesterday afternoon with an easy 16-0 win over Hong Kong in five innings, courtesy of the mercy rule.
The win not only assured the defending champions a berth into Thursday's semi-finals as the second-seeded team out of Pool B, but also most likely earned them a meeting against Pool A leaders Japan in a potential rematch of the 2006 Gold Medal Game.
"I am glad that the loss to South Korea did not keep us from advancing to the next round, even though it probably hurt us in terms of creating a less favorable semi-final matchup," Taiwan head coach Yeh Chih-shien said after the game.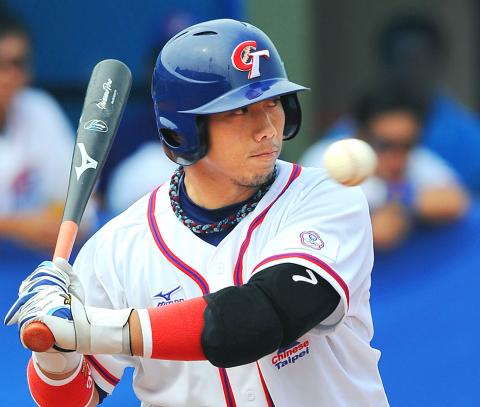 Taiwan's Lee Bin-yen takes aim at a high ball against Hong Kong during their Asian Games preliminary round baseball match in Guangzhou, China, yesterday.
PHOTO: AFP
A win over South Korea in last Saturday's opener would have led to an easier road to this year's title game because the expected opponents would have been China, rather than the more powerful Japanese squad.
Hong Kong dug themselves into a big hole in the opening frame, with starter Chiu Chi Kam walking the first three Taiwanese hitters he faced, which set up a two-run home run by Lin Yi-chuan in what ended up being a three-run first inning.
The defending Asian Games champions doubled their lead in the second inning, this time on the strength of Chang Jien-ming's two-run triple and Chang Tai-shang's RBI single that made it 6-0, before a four-run third upped the lead to 10-0.
An error by the Hong Kong defense coupled with four deadly walks and a slew of base hits led to a six-run fourth, which was more than ample to induce the mercy rule after reliever Lo Ching-lung retired the side in the fifth to promptly end the onslaught.
Three different Taiwanese pitchers saw action yesterday, with starter Lin Ying-jeh tossing three innings of shutout ball to lead the way.
Offensively for the victors, the heart of the order consisting of Chang Tai-shan, Peng Cheng-min and Lin batted a combined six-for-12 with a pair of walks and eight RBIs.
Wildness on the part of the four Hong Kong pitchers took its toll as they issued 11 walks over four innings to match the number of hits they allowed.
"It's nice to be able to pick up a relatively easy win, but our sights should really be set on winning the next two games to leave here with the gold," Yeh said after the game.
His players will have today and tomorrow off before Thursday's semi-final showdown.
Comments will be moderated. Keep comments relevant to the article. Remarks containing abusive and obscene language, personal attacks of any kind or promotion will be removed and the user banned. Final decision will be at the discretion of the Taipei Times.