Running legend Haile Gebrselassie comes to a stop
With 16km to go, Haile Gebrselassie pulled over to the side and simply stopped.
The Ethiopian great was done — not just with Sunday's New York City Marathon if he can be believed, but with competitive racing forever.
A day earlier, fluid was drained from the 37-year-old's right knee after an MRI revealed tendinitis.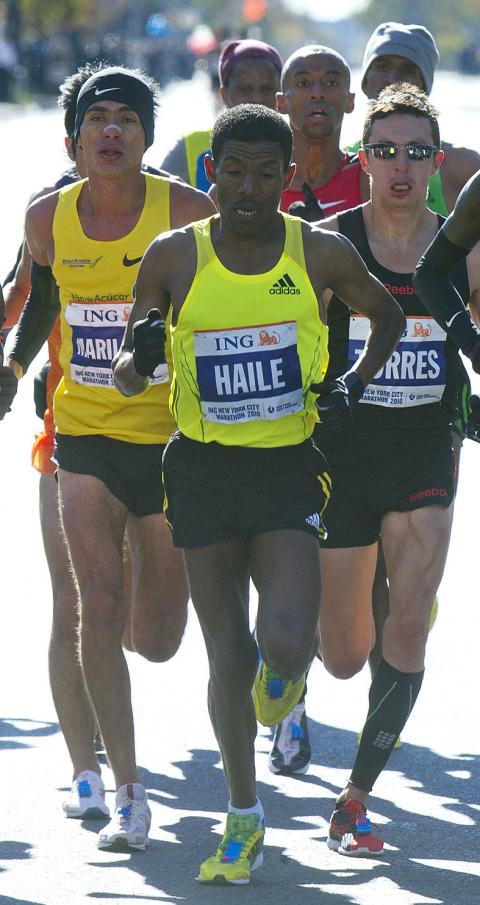 Haile Gebrselassie, center, runs in the New York City Marathon on Sunday.
Photo: REUTERS
"I said: 'Haile, c'mon,' but he couldn't move," said his countryman, Gebre Gebremariam, 26, who slowed briefly before going on to win the race. "He just said: 'I can't, Gebre, you have to go on.'"
"When I announce this, maybe everybody becomes a little bit shocked. I don't want to complain anymore after this, which means it's better to stop here," Gebrselassie said, fighting back tears.
"I never think about to retire, but for the first time, this is the day," Gebrselassie added.
With time to reflect, Gebrselassie may yet change his mind. He set more than two dozen world bests in every event he competed in from 3,000m through the marathon, for which he still holds the world record, and twice won Olympic gold in the 10,000m.
Back home in Addis Ababa, Gebrselassie, the son of a farmer who became wealthy beyond imagination, is hailed as "The Emperor."
"They'll be excited about the winning," Gebremariam said about his countrymen. "But I think everybody's worried about his stopping ... So I think in Ethiopia he has to change his plans. He has to continue to race."
Comments will be moderated. Keep comments relevant to the article. Remarks containing abusive and obscene language, personal attacks of any kind or promotion will be removed and the user banned. Final decision will be at the discretion of the Taipei Times.