Team spirit helps Italy to another Fed Cup triumph
Fed Cup holders Italy, living proof that their sum is greater than their parts, entered a new phase in their love affair with the women's team event by clinching the title for a third time in five years on Sunday.
Despite having no great tennis tradition, the experienced Italian line-up beat 17-time winners the US 3-1 at the San Diego Sports Arena in the best-of-five match final.
"The secret is this is a team which has played with each other a lot and they all respect each other," Italy captain Corrado Barazzutti said. "And they love to play in this competition."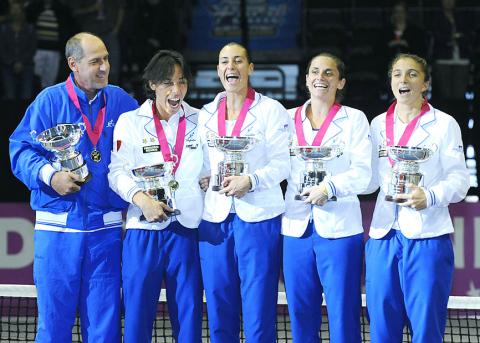 From left to right, coach Corrado Barazzutti and Italy players Francesca Schiavone, Flavia Pannetta, Roberta Vinci and Sara Errani, hold up the replicas of Fed Cup Trophy after defeating the US on Sunday in San Diego, California.
Photo: EPA
"In some way, they feel that this competition is their competition, our competition. It is almost like a love affair. They feel it's something very important to play for Italy, for their country," he said.
Italian No. 2 Flavia Pennetta, who secured the winning point for her team with a 6-1, 6-2 demolition of Coco Vandeweghe, echoed Barazzutti's theme.
"I really enjoy playing for my country and I really enjoy playing for this team," the 28-year-old said after winning her eighth successive Fed Cup match. "We are all friends with each other and we spend so much time together."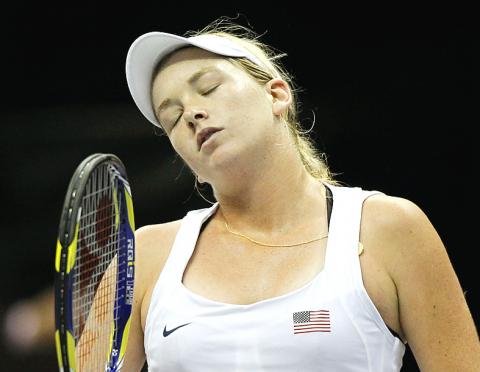 CoCo Vandeweghe of the US reacts to missing a shot during her loss to Italy's Flavia Pennetta in the Fed Cup final on Sunday in San Diego, California. Italian No. 2 Pennetta won 6-1, 6-2.
Photo: REUTERS
"It's so nice to be here with a third Fed Cup title after five years together again in the final," she said.
Pennetta was not bothered that the Italians outplayed a US team weakened by the absence of top players Serena and Venus Williams for a second successive year in the final.
"Of course, if Serena and Venus want to play, the chances to win are less," the world No. 23 said. "It's normal to say something like that. They are really good players, they are really strong."
"But we fight a lot to be here, to have this trophy. Before we played the US, we played two important teams and all their best players were there," she said.
Italy beat Ukraine 4-1 in the first round of the world group, before sweeping the Czech Republic 5-0 in April to book their place in the final.
"It doesn't make any difference if they [the Williams sisters] play or not play," Pennetta said. "Still we have won this unbelievable Fed Cup and nobody can say nothing about that."
Barazzutti agreed.
"It's not our problem the Williams don't play against us in this Fed Cup," he said. "Just like last year, we play against the team that is here and so we concentrate on this team."
"We know very well that with the Williams America is a much stronger team, but they are not here, so we don't care," he said.
SWISS INDOORS
AFP, BASEL, Switzerland
Roger Federer won the Swiss Indoors title on Sunday, defeating Novak Djokovic 6-4, 3-6, 6-1 and earning revenge for last year's trophy match loss against the Serb.
The victory in just under two hours provided relief after Djokovic stole the Swiss honors last year, interrupting Federer's reign over the three previous editions.
"It is even more special to win again at home," Federer said. "I had a super week and a tough final to play."
Federer now heads to this week's Paris Masters as top seed in the injury absence of Rafael Nadal. Djokovic will be seeded second.
The win was Federer's 57th of the season and his 65th career title putting him alone on fourth in the all-time list, one better than Pete Sampras.
The whole of Federer's immediate family was in the stands, including his parents, sister, wife Mirka and the couple's twin daughters dressed in matching outfits.
Federer won the opening set in 45 minutes thanks to one break of serve, but lost his own in the second game of the second as Djokovic eventually pulled through to level. But in the third, the Swiss broke on a Djokovic double-fault for 3-1 and broke again on his third opportunity of the sixth game before serving out the win.
VALENCIA OPEN
AP, VALENCIA, Spain
David Ferrer beat Marcel Granollers 7-5, 6-3 in an all-Spanish Valencia Open final on Sunday to virtually clinch his place at the season-ending ATP Tour finals.
Ferrer used key breaks in each set and defended his own service game well at the City of Arts and Sciences. Granollers netted Ferrer's serve to secure the win.
Ferrer's second win of the season — and ninth of his career — moved him ahead of Andy Roddick into seventh place in the points standings to virtually assure his place in the season-ending ATP World Tour Finals in London later this month. The top eight qualify with only the Paris Masters left to play.
Granollers played aggressively to save four break-points in the sixth game after both players held serve to start.
The Barcelona native — ranked 67th — saved the first through impressive serve-and-volley play, before making it 3-3 after saving the fourth with a drop-shot.
Ferrer, who won here in 2008 when the tournament was a spring clay event, finally got ahead 5-3 after breaking his opponent with a passing shot. But Granollers eliminated that advantage by breaking right back in the same manner.
Ferrer clinched it on his first set chance as he slapped a backhand shot that managed to touch the far corner as Granollers hesitated to be broken for the second time.
Ferrer maintained the momentum in the second set as he hit a crosscourt passing shot for his third break-point. He then held off Granollers in a spirited rally in the next game — finally winning it on his fourth advantage — to hold serve for 3-0 on his way to his 59th match victory this season.
Comments will be moderated. Keep comments relevant to the article. Remarks containing abusive and obscene language, personal attacks of any kind or promotion will be removed and the user banned. Final decision will be at the discretion of the Taipei Times.