F1: Alonso wins in Korea as Red Bull stutter
Ferrari's Fernando Alonso took over the Formula One championship lead by winning yesterday's extraordinary Korean Grand Prix, while rival team Red Bull's drivers both didn't finish.
Red Bull's Mark Webber led the championship entering the race, but spun out soon after racing belatedly began, while teammate Sebastian Vettel led from pole position until 10 laps from the finish when his engine failed.
The incident-strewn race began behind a safety car, but was red-flagged after only two laps because of persistent rain and standing water on the track. After resuming, the safety car remained out until lap 18 while the water was cleared. The race went the distance, but finished in darkness at 6pm.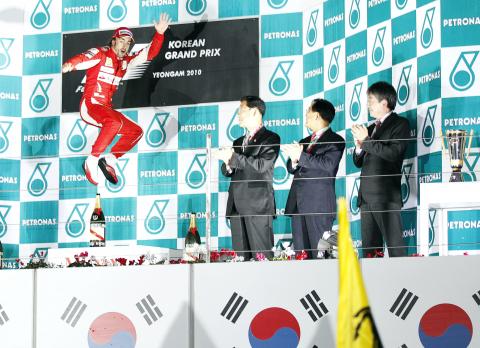 Ferrari Formula One driver Fernando Alonso of Spain jumps into the air as he celebrates on the podium after winning the South Korean Grand Prix at the Korea International Circuit in Yeongam yesterday.
PHOTO: REUTERS
McLaren's Lewis Hamilton finished second to keep his title chances alive and Ferrari's Felipe Massa was third.
With two races remaining in the season, Alonso moved to 231 points, ahead of Webber on 220 and Hamilton on 210. Vettel remained on 206 points and his championship chances look all but over.
"Nothing changes. It was bad luck for Mark and Sebastian, but anything can happen in the next two races," Alonso said.
Reigning champion Jenson Button dropped out of title contention after finishing 12th.
Two laps after the cars were finally released from behind the safety car, Webber ran slightly wide at a corner, putting his tires on the slippery ripple strip and slid across the track into a wall.
Webber's car drifted back across the track and Nico Rosberg of Mercedes could not avoid hitting the Red Bull, ending the race for both drivers.
"Totally my mistake. Wasn't my day," Webber told the BBC. "This is my second non-finish of the year. There are still two races to go, I'll do my absolute best."
Michael Schumacher of Mercedes finished fourth to match his best result of the season. Renault's Robert Kubica was fifth, while Force India's Vitantonio Liuzzi was sixth, his season-best finish.
Rubens Barrichello and Nico Hulkenberg of Williams were seventh and 10th respectively, sandwiching the Sauber pair of Kamui Kobayashi and Nick Heidfeld.
Hamilton moved up from fourth to third in the drivers' standings, with renewed hope of snatching the title should Alonso and Webber falter in Brazil or Abu Dhabi.
"Its not impossible," Hamilton said. "We will keep pushing and keep the pressure on, and as you saw today, things can happen. Ferrari and Fernando are very quick, but it's not out of reach."
Vettel had looked untouchable in front of the field until he dramatically slowed on lap 46 of 55 and Alonso went past on the start-finish straight. Smoke began to billow from the back of the Red Bull and the German's race, and likely his championship hopes, were over.
"It's not a nice moment," Vettel told the BBC. "To be on top all the time and controlling the race, there was nothing we could have done better. We did more or less, a perfect job."
Comments will be moderated. Keep comments relevant to the article. Remarks containing abusive and obscene language, personal attacks of any kind or promotion will be removed and the user banned. Final decision will be at the discretion of the Taipei Times.