Giants claim National League pennant
THIRD-INNING ALTERCATION: Benches cleared after Giants hurler Jonathan Sanchez hit Chase Utley with a pitch, but no punches were thrown and nobody was ejected
The San Francisco Giants beat Philadelphia 3-2 on Saturday to win the National League pennant and reach the World Series for the first time since 2002.
Juan Uribe's two-out solo home run off Ryan Madson in the eighth inning broke a 2-2 tie and San Francisco held on for the victory that gave them a 4-2 triumph in the best-of-seven National League Championship Series.
San Francisco will host the Texas Rangers in Game 1 of the World Series on Wednesday.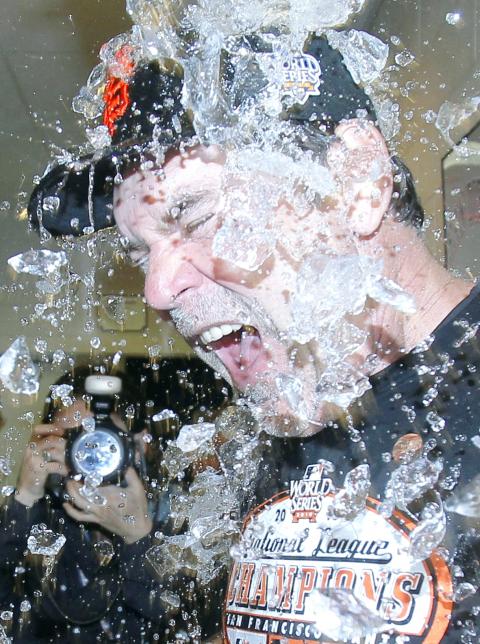 San Francisco Giants manager Bruce Bochy is doused with ice after his team defeated the Philadelphia Phillies in the NLCS in Philadelphia on Saturday.
PHOTO: REUTERS
The Rangers beat reigning champions the New York Yankees in the American League Championship Series.
The Giants are seeking their first World Series title since 1954, when they were still based in New York.
They came within six outs of winning it in Game 6 against wild-cards Anaheim in 2002, but eventually lost the deciding seventh game.
Philadelphia had runners on first and second in the ninth when slumping slugger Ryan Howard took a called third strike to end it.
"Right now it's heaven, but it was torture for that final strike," Giants first baseman Aubrey Huff said.
San Francisco's ace hurler Tim Lincecum struggled in the eighth inning, pitching in relief on one day of rest after taking the loss in Game 5.
Closing pitcher Brian Wilson came in and got five outs to finish off the Phillies, who were trying to become the first National League team in 66 years to win three straight pennants.
Benches cleared in the third inning after San Francisco starting hurler Jonathan Sanchez hit Chase Utley with a pitch and then yelled at Philadelphia's All-Star second baseman for tossing the ball back toward the mound on his way to first base.
No punches were thrown and nobody was ejected, but Sanchez was taken out of the game.
San Francisco's bull pen came through, as the Giants used six pitchers to complete the contest.
"We fought, we scratched and clawed," Giants left-fielder Pat Burrell said. "I don't know how we did it, but we did it."
The Giants overcame a 2-0 first-inning deficit, tied it in the third and went ahead when Uribe smacked an opposite-field drive that just cleared the right-field wall.
Uribe had hit a game-ending sacrifice-fly off Roy Oswalt to give the Giants a 3-1 series lead in Game 4.
Despite fending off elimination with a Game 5 win, the Phillies — who led the major leagues in wins for the first time — couldn't deliver another victory in front of their raucous fans.
"Yeah, I think it is," Phillies manager Charlie Manuel said when asked if the team's 97-win season felt empty. "I just left our clubhouse and you could tell without a doubt every guy in there, they were disappointed. That can work for you, come back more determined, work harder."
"They've got a better offense than people think," Manuel said of the Giants. "They're scrappy. They have experience. They played us tough."
After Lincecum allowed back-to-back one-out singles, Wilson came in and closed out the eighth.
"You can't say enough about Wilson coming in, doing what he's been doing all year," Burrell said.
Cody Ross, acquired from the Marlins on a waiver claim by San Francisco on Aug. 22, was named Most Valuable Player of the NLCS after hitting .350 with six extra-base hits.
Oswalt pitched six solid innings. He allowed nine hits and hit one batter, but repeatedly worked his way out of trouble.
Giants rookie Madison Bumgarner, a 21-year-old left-hander, pitched two scoreless innings in relief, escaping a bases-loaded jam in the fifth.
The Phillies took a 2-0 lead in the first on Utley's RBI-double and a sacrifice-fly from Jayson Werth.
Sanchez sparked a two-run rally in the third with a lead-off single.
Andres Torres followed with a drive that Shane Victorino chased onto the warning track, only for the ball to bounce out of his glove as he attempted an over-the-shoulder catch.
Huff's single up the middle scored Sanchez, but Victorino's throw saw Torres out at home. Huff reached second on the throw and scored the tying run on an error.
Comments will be moderated. Keep comments relevant to the article. Remarks containing abusive and obscene language, personal attacks of any kind or promotion will be removed and the user banned. Final decision will be at the discretion of the Taipei Times.