Deslauriers and Ward help US take lead in jumping
Mario Deslauriers and US teammate McLain Ward held the top two spots after the speed round of the jumping competition at the World Equestrian Games on Monday.
Hungary's Sandor Szasz, competing at this level for the first time, was third.
"Obviously we are all nervous going in," said Deslauriers, a two-time Canadian champion who now rides for the US. "I went about four or five hours earlier than [Ward] did so there was more pressure on him. My horse is very quick. He looks a bit deceiving when you watch him go. I was very happy with him, and he jumped fantastic."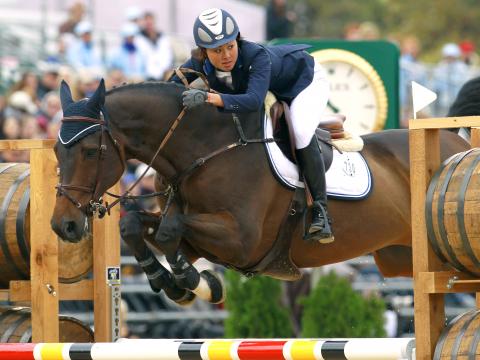 Jasmine Chen of Taiwan rides Quin Chin as she competes in the speed competition of the jumping championship at the World Equestrian Games in Lexington, Kentucky, on Monday. Chen finished 86th, with a time of 90.25 seconds.
Photo: Reuters
The speed competition requires a horse and rider clear a set of jumps in the fastest time and with no penalties.
Deslauriers, Ward, and Szasz all had clean rounds, but Deslauriers had the fastest time. He completed the 13 jumps in 71.25 seconds, while Ward — an Olympic gold medalist — went in 71.79 and Szasz finished in 73.24.
"[The course] was challenging from the beginning to the end," said Ward, who rides a 15-year-old mare named Sapphire. "I have a horse with a lot of experience who is pretty predictable. She performed great."
The speed round serves as the first day of the team competition.
The US is in the lead, while Germany is in second and France third. It is also a qualifier for the individual competition.
Team jumping continues tomorrow, while the individual competition is scheduled for Friday and Saturday.
Taiwan's Jasmine Chen ranked 86th in the speed competition.
The World Equestrian Games will conclude on Sunday.
Additional reporting by staff writer
Comments will be moderated. Keep comments relevant to the article. Remarks containing abusive and obscene language, personal attacks of any kind or promotion will be removed and the user banned. Final decision will be at the discretion of the Taipei Times.