Patriots crush Dolphins
SOMETHING SPECIAL: New England engineered the blowout with a 103-yard kickoff return, a blocked punt and a blocked field goal that was recovered and run in
The New England Patriots scored 35 points in the second half to crush an error-prone Miami Dolphins 41-14 on Monday nigth and join the New York Jets at the top of the AFC East division.
A dismal display from the Dolphins, whose quarterback Chad Henne threw three interceptions, caused the home team to drop a second successive defeat after opening the season with back-to-back victories.
The Dolphins led 7-6 at halftime, but Henne's two picks, both grabbed by former Dolphin linebacker Rob Ninkovich, proved to be decisive as Miami self--destructed after the intermission, allowing New England (3-1) to ease to a morale-boosting road win.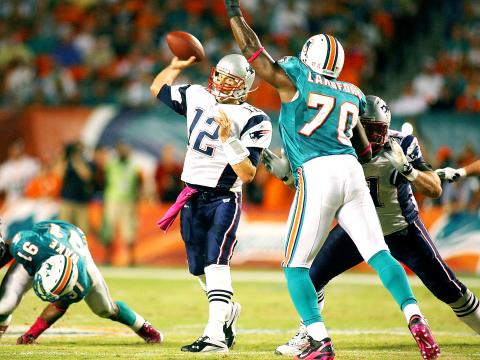 Quarterback Tom Brady, No. 12 of the New England Patriots, throws against the Miami Dolphins at the Sun Life Stadium on Monday in Miami, Florida.
Photo: AFP
The Patriots returned the second-half kickoff 103 yards for a touchdown, blocked a punt to set up another, took a blocked field goal in for a score and carried an interception into the end zone.
"I can't imagine there are too many of those [games] in NFL -history to be honest with you, plus offensive and defensive touchdowns. It was a good day for fantasy football," Patriots head coach Bill Belichick told reporters.
Not surprisingly, his Miami counterpart Tony Sparano was less impressed with the range of scoring methods though.
"It was a mess. It was embarrassing. These fans deserve better than that," he said.
Remarkably for such a high-scoring win, Patriots wide-receiver Randy Moss did not pull down a single catch and quarterback Tom Brady had a quiet evening with just 153 passing yards.
Statistics counted for little in this game though, Henne's 302 passing yards disguise a performance which was far from convincing for a player who took over as starter from the experienced Chad Pennington last year.
Brandon Tate's superb kick-off return to start the second half put New England ahead and showcased the receiver's outstanding pace as he broke out right and sprinted the length of the field, helped by a great block from Sammy Morris.
It was a play which shifted the momentum of the game and appeared to deflate a Dolphins team, which simply fell to pieces.
After Brandon Fields's punt was blocked by Patrick Chung, a 12-yard touchdown run from Benjarvus Green-Ellis two plays later put the Patriots 20-7 ahead.
Ricky Williams scored with a 28-yard touchdown run to bring the Dolphins back into the game, but their resistance was short-lived.
Brady found Danny Woodhead for an 11-yard touchdown that marked the onset of a rout.
A 53-yard Dolphins field-goal attempt from Dan Carpenter was blocked, again by Chung, and Kyle Arrington ran into the end zone from 35 yards out.
Comments will be moderated. Keep comments relevant to the article. Remarks containing abusive and obscene language, personal attacks of any kind or promotion will be removed and the user banned. Final decision will be at the discretion of the Taipei Times.