Clijsters wins as Federer's run ends
CRYING GAME Vera Zvonareva was reduced to tears by her defeat in the US Open final, while Roger Federer squandered two match points in his semi-final loss
It was all too easy for Kim Clijsters at the US Open on Saturday. And all too hard for Roger Federer.
Clijsters won her third women's singles title with ridiculous speed, thrashing her nervous Russian opponent Vera Zvonareva 6-2, 6-1 in less than an hour.
For the second year in a row, Clijsters celebrated her victory by fooling around with her infant daughter on the center court. The photographers lined up to start snapping away but Jada protested.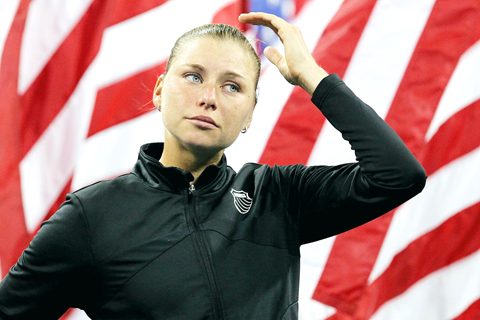 Vera Zvonareva reacts during the presentation ceremony after the US Open women's singles final on Saturday in New York.
PHOTO: AFP
"No photos, no photos," she told them.
Clijsters giggled and the crowd at Arthur Ashe Stadium lapped it up.
"I'm very excited that I was able to defend my title," Clijster said. "It's always an honor to go back to a place, especially a Grand Slam, where you've done well and you've won."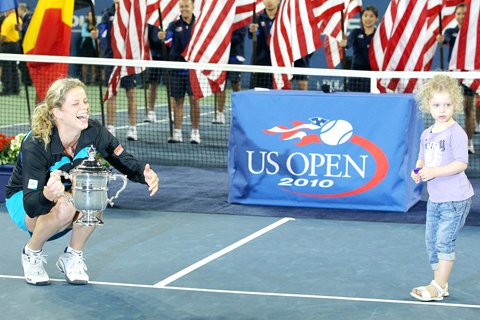 Kim Clijsters holds the championship trophy as she is joined by her daughter after defeating Vera Zvonareva on Saturday in the US Open women's singles final in New York.
PHOTO: AFP
Zvonareva was reduced to tears, hiding her head under her towel as she sobbed. The seventh-seed had played some brilliant tennis to get to the final but these were not her finest 59 minutes.
It was not Federer's greatest day at Flushing Meadows either. For the first time since 2003, the Swiss master will not be appearing in the men's singles final after his loss in the semi-finals to Serbia's Novak Djokovic.
"I'm not as disappointed as I would have been in the final. That's the only positive news to enjoy anything out of it," he said.
Federer had two match points in the final set, which lasted longer than the entire women's final, but missed his chances and Djokovic went on to win 5-7, 6-1, 5-7, 6-2, 7-5.
"It's one of those matches that you will remember for the rest of your life," Djokovic said. "I am very proud of myself."
His reward was a place in yesterday's final against the world No. 1 Rafa Nadal, who sailed through with a 6-2, 6-3, 6-4 victory over Russia's Mikhail Youzhny.
Nadal has never won the US Open but it will take an extraordinary performance from Djokovic to deny him this time.
"I have tried my best for a lot of years," Nadal, who has not dropped a single set in the tournament, said. "So now after a lot of work I am here and I'm happy for that."
"I feel great," Nadal said. "It's not a dream, because a dream is to win the tournament."
Nadal's only moments of concern against Youzhny were late in the match when he dropped serve for just the second time in the tournament and had his left foot retaped and bandaged because of a blister.
Djokovic's victory put the Serbian into his third Grand Slam final. The world No. 3 made the US Open final in 2007, losing to Federer, but won the Australian Open the following season. At 23, he has time on his side and the game to match.
In the third set against Federer, he repeatedly smashed himself in the head with his racket in an attempt to motivate himself. It worked and by the end, he was on his knees planting a sloppy kiss on the court.
"[I have] many, many more years to come. I look forward to it," he said. "I'm working hard on my game. I'm getting some things together and hopefully on the court it's gonna pay off."
His victory robbed the tennis world of what might have been the ultimate Grand Slam final. Federer and Nadal have played each other in the Wimbledon, French Open and Australian Open finals, but no two men have ever met in the finals of all four majors.
"I would have loved to play against him [Nadal] here," Federer said. "I won't watch but I hope he wins."
Clijsters won her first US Open title in 2005 but was unable to defend her crown because of an injury. She missed the next two years after taking time off to start a family.
She won it again last year in her comeback to Grand Slam tennis and Saturday's win saw her become the first woman to successfully defend her the crown since Venus Williams in 2001.
Comments will be moderated. Keep comments relevant to the article. Remarks containing abusive and obscene language, personal attacks of any kind or promotion will be removed and the user banned. Final decision will be at the discretion of the Taipei Times.