ICC investigating a fourth Pakistan player, report says
A fourth Pakistan cricketer was reportedly being investigated over alleged match-fixing yesterday, with fresh betting scam claims casting a shadow over the country's Twenty20 match against England.
Britain's News of the World tabloid said the International Cricket Council (ICC), which has already charged three Pakistan stars under its anti-corruption code, was now probing a fourth player, but did not name him.
The same newspaper last week caused a major scandal by claiming it paid Mazhar Majeed, an agent for several Pakistan players, £150,000 (US$230,000) in return for advance knowledge of no-balls in last month's final Test against England, which could then be bet upon.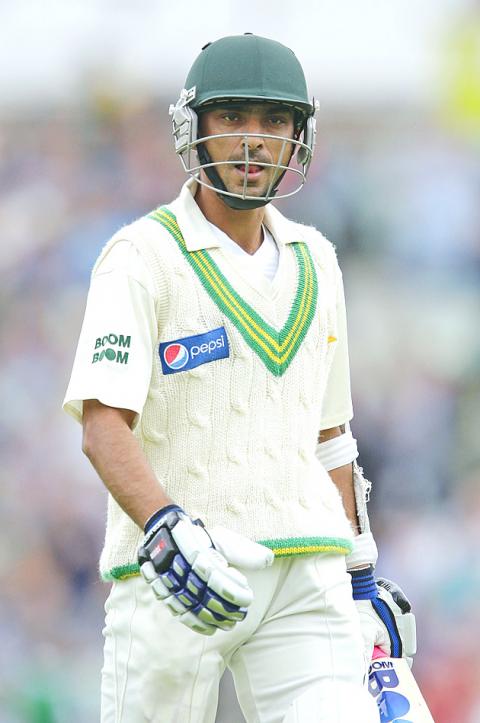 Pakistan's Yasir Hameed walks back to the pavillion after getting out for a duck against England on the fourth day of the third Test at The Oval in London on Aug. 21.
PHOTO: AFP
That prompted the ICC to charge Test captain Salman Butt and bowlers Mohammad Amir and Mohammad Asif and suspend them pending a decision on the allegations.
This week, the paper said that up to £15,000 of the cash it allegedly handed to Majeed was found in Butt's London hotel room. Butt's lawyer denied any wrongdoing, saying it would not be unusual for his agent to give him money.
It also claimed that the three players were facing 23 charges from the ICC, which refused to comment on the latest reports.
Despite the fresh wave of controversy, Pakistan's team manager Yawar Saeed insisted that yesterday's match against England in Cardiff would still go ahead.
"The match goes ahead, absolutely. I will be taking the boys to the ground, unless somebody tells me any different," Saeed said.
However, the game will be played out against a murky backdrop of allegations against some of cricket's hottest talents.
Amir, an 18-year-old rising star, Asif, 27, and Butt, 25, were questioned by police about the claims on Friday, but were released without charge.
In other developments yesterday, the News of the World claimed its reports had been confirmed by Pakistan batsman Yasir Hameed.
"They were doing it [fixing] in almost every match. God knows what they were up to. Scotland Yard was after them for ages," Hameed reportedly told an undercover reporter in a bar in the central English city of Nottingham.
Speaking late on Saturday, Hameed denied he had spoken to the paper or bad-mouthed other players.
"I can never think of blaming my teammates in match-fixing," said the batsman, who remains in England after playing in Pakistan's Test series, despite not being picked for the one-day matches. "The newspaper is claiming I have given them an interview. This is not correct."
The ICC action against the three players has caused fury among many cricket fans in Pakistan.
Former batsman Younis Ahmed told BBC radio that people were "totally furious and very disappointed" by the reports, particularly in the wake of recent turmoil in the country.
"All the floods that Pakistan had — 16 million people without their homes, belongings, their livestock destroyed and their livelihoods at stake — this was the last thing they were expecting," he said.
Comments will be moderated. Keep comments relevant to the article. Remarks containing abusive and obscene language, personal attacks of any kind or promotion will be removed and the user banned. Final decision will be at the discretion of the Taipei Times.