Piniella says goodbye with a dud
FAMILY FIRST The legendary manager announced that he is leaving Chicago to attend to his ailing mother, ending a storied career with a disappointing final chapter
NATIONAL LEAGUE
AP, CHICAGO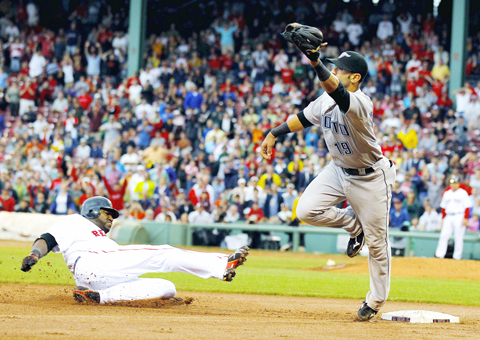 Boston Red Sox designated hitter David Ortiz slides into third on a triple as Toronto Blue Jays third baseman Jose Bautista fields a wide throw during the fifth inning of their MLB American League baseball game at Fenway Park in Boston, Massachusetts on Sunday.
PHOTO: REUTERS
Lou Piniella bowed out as the Cubs' manager and ended a career that spanned five decades after the Atlanta Braves routed Chicago 16-5.
The 66-year-old Piniella announced before the game that he was leaving to be with his ailing mother. Third base coach Mike Quade was promoted to interim manager.
The disappointing Cubs were not able to send Piniella out as a winner. Omar Infante and Jason Heyward each hit a pair of home runs, and the Braves scored 11 times in the last three innings to break away.
Piniella was in the dugout when the game was over, and he waved his hat to longtime Braves manager Bobby Cox across the field. Cox plans to retire after the season.
CARDINALS 9, GIANTS 0
In St Louis, Missouri, Jaime Garcia threw a three-hitter for his first career shutout and fellow rookie Allen Craig hit a two-run homer as St Louis trounced San Francisco.
Jon Jay had three hits and an RBI and Brendan Ryan and Yadier Molina each had two hits with an RBI for the Cardinals. St Louis rebounded from a five-game losing streak to take two of three from the Giants.
During the game the Giants were awarded outfielder Cody Ross on a waiver claim from Florida.
Garcia (11-6) faced one batter over the minimum and struck out six.
Barry Zito (8-8) lasted only three-and-two-thirds innings, surrendering five runs on seven hits.
PHILLIES 6, NATIONALS 0
In Philadelphia, Roy Oswalt struck out eight batters in seven sharp innings to lead Philadelphia over Washington on a rainy day.
Oswalt (9-13) has won three straight starts for the first time this season, helping the Phillies try to make a move on Atlanta for the NL East lead.
Oswalt allowed five hits, and the Phillies backed him with the kind of run support he rarely got in Houston before getting traded last month. He never came out for the eighth after the game was delayed one hour and 44 minutes by rain.
The right-hander also got two hits and scored a run.
REDS 5, DODGERS 2
In Los Angeles, Bronson Arroyo earned his 100th career victory, and Joey Votto homered and drove in three runs as National League Central-leading Cincinnati beat Los Angeles.
The Reds took two of three in the series and held their three-and-a-half-game division edge over St Louis.
Arroyo (14-7) allowed two runs and seven hits in seven innings, striking out six and walking none. The right-hander came in 0-3 with a 5.56 ERA lifetime at Dodger Stadium.
Clayton Kershaw (11-8) struck out 11, allowing three runs and five hits over seven innings. He threw a career-high 118 pitches.
Votto hit a tiebreaking homer in the sixth and added a two-run single in the ninth.
In other NL play it was:
• Astros 2. Marlins 1
• Padres 7, Brewers 3
• Pirates 2, Mets 1
• Rockies 1, Diamondbacks 0
AMERICAN LEAGUE
AP, NEW YORK
Robinson Cano hit a grand slam and drove in a career-high six runs and C.C. Sabathia extended his home winning streak to 15 decisions as the New York Yankees routed the Seattle Mariners 10-0 on a rain-slicked field on Sunday.
Austin Kearns and Jorge Posada also homered for the Yankees, who notched another win minus slugger Alex Rodriguez. New York is a confounding 12-0 this season without the three-time MVP, placed on the 15-day disabled list on Saturday with a strained left calf.
Cano is a big reason for all that success. Making his own bid for a most valuable player award, the All-Star second baseman launched his 25th home run in the fifth inning off Luke French (2-4).
Sabathia (17-5) held Seattle hitless until the fifth and became the American League's first 17-game winner.
RAYS 3, ATHLETICS 2
In Oakland, California, Matt Garza came out on top in a matchup between pitchers who threw no-hitters this season, outpitching Dallas Braden for his career-high 13th win and leading Tampa Bay over Oakland.
Garza (13-7) scattered four hits over seven-and-two-thirds innings and overcame a balk that led to Oakland's only run against him.
Braden (8-9) allowed only four hits, but gave up all three Tampa Bay runs and took the loss. It is only the second loss in six starts for the A's lefty, who pitched a perfect game against the Rays on May 9.
RED SOX 5, BLUE JAYS 0
In Boston, Clay Buchholz allowed five hits over six innings to lower his AL-best ERA to 2.26 and Bill Hall hit a two-run homer for Boston.
The game began one hour and 44 minutes late and was stopped for 59 minutes by more rain with two outs in the top of the third of a scoreless tie.
Buchholz (15-5) extended his streak to 23-and-two-thirds innings without allowing an earned run.
Shaun Marcum (11-7) retired Boston's first 12 batters. He left after seven innings, having given up three runs and four hits. He had six strikeouts and without a walk.
RANGERS 6, ORIOLES 4
In Baltimore, Maryland, Josh Hamilton and Vladimir Guerrero each hit three-run homers and Tommy Hunter earned his career-high 10th win as Texas beat Baltimore to split the four-game series.
The AL West-leading Rangers had lost 11 of 15 before the victory, which also snapped a 1-7 stretch on the road.
Luke Scott hit his 100th career homer and Ty Wigginton also connected for Baltimore, now 12-8 under manager Buck Showalter.
Hunter (10-2) gave up three runs and five hits over eight innings.
Hamilton and Guerrero both connected off Kevin Millwood (2-14).
In other Al play it was:
• Royals 3, White Sox 2, 10 inns
• Tigers 8, Indians 1
• Twins 4, Angels 0
Publication Notes
CPBL
Yesterday's results
• No games
Today's game
• La New Bears v Uni-President Lions
(Tainan, 6:35pm)
Comments will be moderated. Keep comments relevant to the article. Remarks containing abusive and obscene language, personal attacks of any kind or promotion will be removed and the user banned. Final decision will be at the discretion of the Taipei Times.