Disgraced sprinter claims comeback victory in Estonia
US sprinter Justin Gatlin overcame a bout of jitters to win his comeback race following a four-year doping ban in 10.24 seconds on Tuesday.
Gatlin, the 2004 Olympic 100m champion, was running at the KuldLiiga meeting in Rakvere, Estonia as he starts his comeback aiming for the Olympic Games in London in 2012.
He bettered his heat time of 10.34 seconds but ran far from his personal best of 9.85 in winning the final ahead of fellow American J-Mee Samuels who finished in 10.31.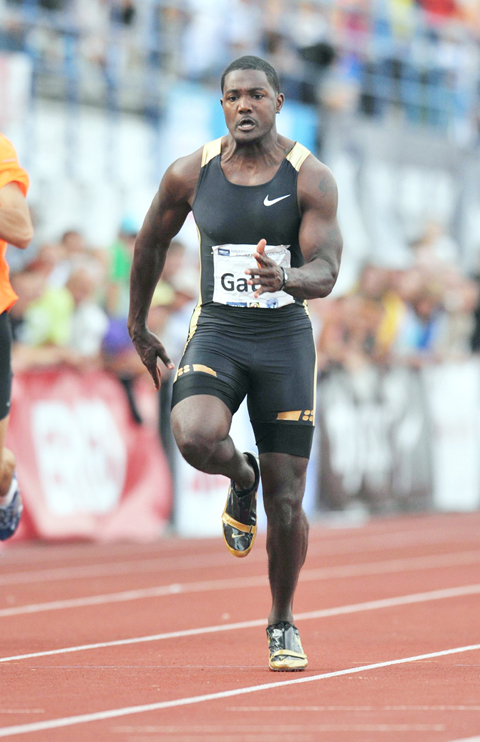 Justin Gatlin runs in the 100m on Tuesdsay at the Bigbank Estonian GP meeting in Rakvere, Estonia.
PHOTO: AFP
"I came off the blocks and stumbled a little bit and my first 20 [meters] was not on point like it was in the prelims, but I think I kept my composure towards the end of the race and I finished well," Gatlin told Reuters TV.
"I got a lot of the butterflies out and I am ready to go and run and compete," he said.
His coach Loren Seagrove said: "He was behind by one meter at the 40, and that is not typical, but in the last 40m he was quite strong."
Gatlin had not run a competitive race since June 2006 after being banned because of a positive test for the male sex hormone testosterone and its precursors. He said he was a little disappointed with his time before adding: "It feels good to just get my feet wet and to come back and that is what my coach wanted."
The 28-year-old regained his eligibility to compete last month but was expected to have difficulty finding races even after the ban ended because of a Euro Meetings recommendation not to invite athletes who bring dispute to the sport.
However, the organizers of the Estonian meetings, which are not members of the Euro group, welcomed Gatlin's participation.
"Now we are going to work on getting the strength and hopefully [at the next meet in Tallinn] on Aug. 8 we are going to lower that time as well," Gatlin said.
After finally spending four years in exile, Gatlin declined to reveal what he plans next.
"Right now I am just going to focus on Tallinn and then worry about what is after that," he said.
Comments will be moderated. Keep comments relevant to the article. Remarks containing abusive and obscene language, personal attacks of any kind or promotion will be removed and the user banned. Final decision will be at the discretion of the Taipei Times.