Taiwan wallop Oz Crocs
Converting 19 shots from behind the three-point line, Team Taiwan easily cruised past the Townsville Crocodiles of the Australian National Basketball League 103-55 in their Jones Cup opener at the Taipei County Gymnasium in Sinjhuang last night, launching the weeklong competition with a big win.
The hosts shook off a sluggish start in which the visitors from Down Under took advantage of their superior size with several uncontested shots from close range by consistently hitting from the perimeters to enjoy a 24-13 lead after the first quarter.
An alert defense by Taiwan that forced eight turnovers in the second quarter (14 in the first half) held the Crocs to eight meager points in the quarter while the offense continued its success from the perimeters to give the local boys a whopping 44-21 lead at the half.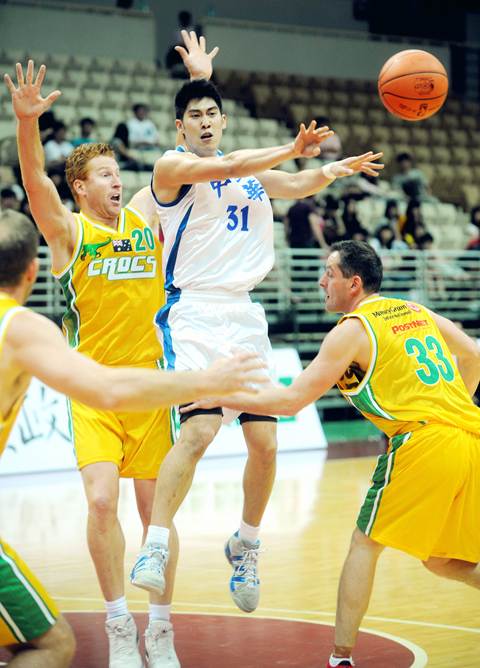 Taiwan's James Mao passes to a teammate while playing against Australian defenders in Sinjhuang yesterday.
PHOTO: LIN CHENG-KUNG, TAIPEI TIMES
Taiwan led by as many as 26 points midway through the third with Lee Hsueh-lin and James Mao leading the attack.
Even though the Crocs cut the deficit to under 20 with a slew of put-back baskets after some great second-chance opportunities, Lu Cheng-rue promptly rose to the occasion by nailing back-to-back three's in the closing minute of the third quarter to keep Taiwan's lead at a comfortable 34 by the end of the third.
That was a wide enough margin for the reserve players who finished off the game strong with a 32-point fourth in the eventual blowout.
"I am very excited to be able to play on the national team," Mao said after the game.
The shooting guard for Pure Youth Constructions, who was playing for Taiwan for the first time accounted for 14 of his team's first 24 points.
The Taiwanese nationals will take on their compatriots from the College All-Stars this evening in what should be another easy victory as they prepare for the showdown against Lebanon tomorrow night.
In other Jones Cup action, it was:
• Philippines 83, Taiwan College All-Stars 52
• Japan 82, Lebanon 87
Comments will be moderated. Keep comments relevant to the article. Remarks containing abusive and obscene language, personal attacks of any kind or promotion will be removed and the user banned. Final decision will be at the discretion of the Taipei Times.