Federer loss leaves fans stunned
SHOCKER Roger Federer had won 51 of his last 52 matches at Wimbledon, but crisp hitting by Czech Tomas Berdych proved too much for him
A sense of stunned disbelief descended over southwest London at 3:46pm on Wednesday when the unthinkable happened — Roger Federer's remarkable reign as Wimbledon champion was finally over.
When Tomas Berdych punched away a forehand winner to finish off the Swiss maestro, a chorus of gasps could be heard around the All England Club.
The 24-year-old Czech's 6-4, 3-6, 6-1, 6-4 win left the six-times champion to contemplate going on holiday as he suffered his earliest defeat at the tournament since 2002.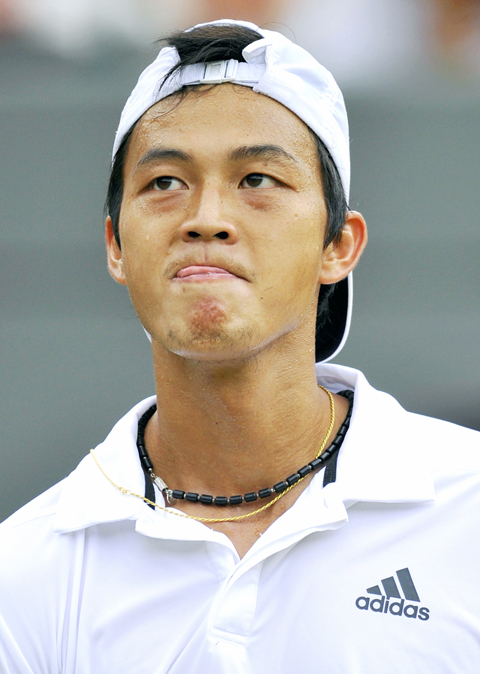 Taiwan's Lu Yen-hsun reacts in his match against Novak Djokovic of Serbia at the All England Lawn Tennis Championships at Wimbledon in London on Wednesday.
PHOTO: REUTERS
"It was brutal for me. Every time he had a chance, he took it. If there's anything good about this it's I'm gonna get some rest," said Federer, who added he had been troubled by a stiff back and right leg injury.
As crisp hitting from Berdych brought the man who had won 51 of his last 52 Wimbledon matches to his knees, Britain started to dream that this may be the summer when Andy Murray can finally end the 74-year-long wait for a homegrown men's champion.
The world No. 4 set pulses racing when he dropped the first set but avoided fluffing his lines with a 6-7, 7-6, 6-2, 6-2 win over Frenchman Jo-Wilfried Tsonga.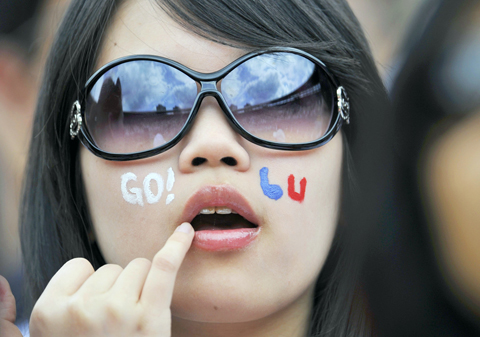 A spectator shows her support for Lu Yen-hsun ahead of his match against Novak Djokovic at Wimbledon on Wednesday.
PHOTO: REUTERS
Next up for him will be Rafael Nadal, the only man to beat Federer at the citadel of grasscourt tennis since 2002.
The 2008 champion was eager to make his presence felt after overcoming Robin Soderling, 3-6, 6-3, 7-6, 6-1, but there was only one topic people wanted to talk about.
"Roger did amazing the last seven years here, so someday this must happen ... [and it] happened today," Nadal said.
A Wimbledon men's final without the sight of Federer walking out on the second Sunday of the championships was inconceivable only 10 days ago but after a week in which he has struggled to stamp his authority over opponents ranked 152 and 60, Berdych was ready to move in for the kill.
Although Federer captured the second set, the desperate shots flying off his racket became increasingly wayward.
Berdych galloped to a 4-1 lead in the third set and then left Federer gaping in astonishment after he broke again with a service return that flashed past the Swiss. An ace sealed a two-sets-to-one lead for Berdych.
Federer kept the fans on the edge of their seats as he earned, and blew, four break points in the sixth game of the fourth set.
Berdych made him pay in the next game as he broke for a 4-3 lead with a scorching forehand.
Three games later it was all over.
Comments will be moderated. Keep comments relevant to the article. Remarks containing abusive and obscene language, personal attacks of any kind or promotion will be removed and the user banned. Final decision will be at the discretion of the Taipei Times.