Celtics beat Heat in playoff opener
ELBOWED OUT Boston's Kevin Garnett was ejected after throwing an elbow to the head of Heat forward Quentin Richardson and now faces possible suspension
The Boston Celtics shut down the Miami Heat in the fourth quarter to record an 85-76 victory and take a 1-0 lead in their Eastern Conference playoffs first-round series on Saturday.
Kevin Garnett scored 15 points and grabbed nine rebounds for the Celtics before he picked up two technical fouls and was ejected following a fourth quarter scuffle.
Video replays appeared to show he threw an elbow at the head of the Heat's Quentin Richardson.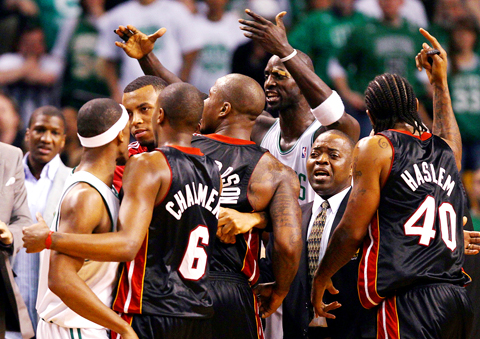 Boston Celtics and Miami Heat players argue during Game One of the Eastern Conference quarter-finals at the TD Garden on Saturday in Boston.
PHOTO: AFP
"He clearly made contact with Richardson," official Joe DeRosa told the NBA's Web site (www.nba.com). "But even if he had not, he still would have been ejected for a second technical foul for throwing an elbow."
The flare-up, which came with about 40 seconds left to play, occurred after Boston's Paul Pierce fell into the Heat's bench and aggravated a shoulder injury
Garnett went to check on his teammate and wound up in a shoving match with Richardson.
Richardson and Udonis Haslem of the Heat and Boston's Glen Davis also received technical fouls and the league could take more action.
Boston trailed 66-64 after three quarters, but held the Heat to 10 points in the fourth.
"It wasn't about offense for us," Pierce told reporters. "It was about how we played defense. Once I got going, the defense came through for us.
"When you get Game One, it sets the tone for the series."
Dwyane Wade led Miami with 26 points but had seven turnovers.
"We played great until the fourth quarter," Miami's Richardson said.
Cavs 96, Bulls 83
At Cleveland, Ohio, LeBron James had 24 points and four blocks and a slimmed-down Shaquille O'Neal, playing for the first time since Feb. 25, scored 12 points in 24 minutes to help top-seeded Cleveland beat Chicago in Game 1 of the Eastern Conference series.
O'Neal looked remarkably sharp despite missing the Cavs' final 23 regular-season games after tearing a thumb ligament.
Derrick Rose had 28 points and 10 assists for Chicago, which trimmed a 22-point deficit in the third quarter to seven in the fourth.
However, James converted a three-point play with 2:29 left and Mo Williams followed with a 3-pointer to put Cleveland up 94-81.
Williams added 19 points and 10 assists and Antawn Jamison had 15 points and 10 rebounds. Cleveland blocked 12 shots — 10 in the second half.
Hawks 102, Bucks 92
At Atlanta, Joe Johnson scored 22 points and Mike Bibby had 19 for Atlanta in Game 1 of the Eastern Conference series.
Jamal Crawford added 17 points for Atlanta in the first postseason appearance in his 10-year career. Rookie Brandon Jennings led Milwaukee with 34 points.
The Hawks had mismatches all over the court, taking advantage of the injury that took out Milwaukee center Andrew Bogut late in the season.
The home team never trailed, building a 20-point lead in the first quarter and going to halftime with a 62-40 edge.
Nuggets 126, Jazz 113
At Denver, Carmelo Anthony scored a playoff career-high 42 points and J.R. Smith's fourth-quarter flurry of 3-pointers helped Denver beat Utah in Game 1 of the Western Conference playoff series.
Anthony benefited from the absence of Jazz forward Andrei Kirilenko, who re-injured his strained left calf in practice Thursday and won't play in the series.
Although Carlos Boozer (rib) returned to Utah's lineup and scored 19 points, the Jazz lost center Mehmet Okur, who aggravated his left Achilles' tendon injury in the first half and C.J. Miles also missed some time because of nausea after colliding with Chauncey Billups in the second half.
Comments will be moderated. Keep comments relevant to the article. Remarks containing abusive and obscene language, personal attacks of any kind or promotion will be removed and the user banned. Final decision will be at the discretion of the Taipei Times.