Button wins soggy Shanghai F1 race
WET AND EXCITING Jenson Button led the way for Team McLaren as teammate and compatriot Lewis Hamilton followed in second in what was a rainy and eventful race
World champion Jenson Button calmly steered through the chaos of a wet Chinese Grand Prix for his second win of the season yesterday, leading home Lewis Hamilton in a McLaren one-two.
The 30-year-old Briton, who took the lead in the overall standings after celebrating his second win of the season and ninth of his career, yelled: "We really earned that one!" on his team radio as he crossed the line.
"For me, it's my best victory," the grinning Button, who had started fifth on the grid, told reporters. "It was very tough conditions and the great thing is our pace was good. It wasn't just the luck of calling the weather."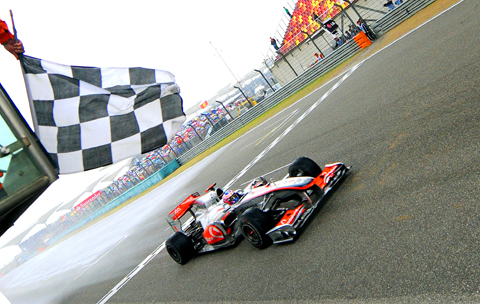 McLaren-Mercedes driver Jenson Button of Britain takes the checkered flag yesterday to win the Chinese Grand Prix in Shanghai.
PHOTO: AFP
Hamilton carved his way through the field from 12th on lap four to finish 1.530 seconds behind his compatriot in the first British one-two since 1999.
The 25-year-old's aggressive drive included a clash with Red Bull's Sebastian Vettel in the pit lane and a post-race stewards' investigation resulted in reprimands for both drivers for dangerous driving.
"I had quite an eventful race," said Hamilton, the 2008 world champion, who embraced Button and shook his hand afterwards.
"I fought my way through and we both did a tremendous job and it's great for the team," he said.
German Nico Rosberg secured his second successive third place for Mercedes, with Spain's Fernando Alonso, who earned a drive-through penalty for a jump start, finishing fourth for Ferrari.
Button now has 60 points overall, 10 clear of Rosberg, with Hamilton and Alonso a point further back in third.
McLaren lead the constructors' standings with 109 points to Ferrari's 90.
Pole-sitter Vettel, who won the last race in Malaysia and here last year, could only manage sixth behind Robert Kubica's Renault, leaving the Shanghai race still without a repeat winner after seven years.
"Today was very chaotic and in the end to take sixth can be quite important," Vettel said. "Obviously, our main competitors finished ahead, so that's not nice. It was a very difficult race for us."
Renault's Vitaly Petrov passed both Michael Schumacher of Mercedes and the Red Bull of Mark Webber on the last few laps to take seventh place in the Russian's first completed Formula One race.
Alonso's premature start, a safety car for a three-car pile-up on the first corner, heavy rain and another safety car later in the race contributed to an entertaining but chaotic race.
"I think we stopped five times to change the tires," said twice world champion Alonso, who muscled his car past Brazilian teammate and previous championship leader Felipe Massa as both headed into the pits.
"Hopefully, next race we have a normal weekend. We've had only one in Bahrain and we won the race. So we need more normal weekends," Alonso said.
Rosberg emerged in the lead after the first few laps, followed by Button and Kubica with the race favorite Red Bulls and Hamilton scrambling to change tires to match the conditions.
Hamilton showed through his uncompromising clash with Vettel at both the entrance and exit to the pit lane that he was by no means cowed by criticism of his driving in Malaysia.
The Briton's drive included an audacious move to pass both Vettel and Adrian Sutil at one corner and a thrilling battle with seven-time world champion Schumacher.
Button overtook Rosberg on the hairpin before the start-finish straight and made his first pit stop immediately afterwards, still getting back out in front just before the second safety car on lap 20 bunched up the field again.
Comments will be moderated. Keep comments relevant to the article. Remarks containing abusive and obscene language, personal attacks of any kind or promotion will be removed and the user banned. Final decision will be at the discretion of the Taipei Times.