Yankees earn fourth straight series win
QUADRUPLE WHAMMY The last time the Yankees won their first four series in a season was in 1926, while elsewhere the Tampa Bay Rays stung the Red Sox twice
New York Yankees slugger Alex Rodriguez hit his first home run of the season and the 584th of his career to help his team beat the Texas Rangers 7-3 on Saturday.
A day after C.C. Sabathia struck out nine in six innings to guide the Yankees to a 5-1 win against the Rangers, Rodriguez moved past Mark McGwire into eighth place in the all-time home run standings.
Rodriguez had gone without a homer in his first 41 at-bats but he ended that with a solo drive into right-center field against Doug Mathis to put the World Series champions ahead 7-0.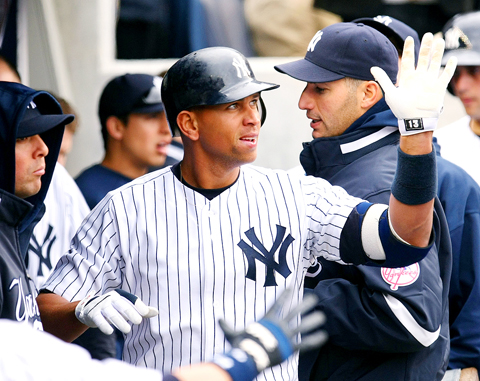 Alex Rodriguez of the New York Yankees celebrates his home run against the Texas Rangers during their game on Saturday at Yankee Stadium in New York.
PHOTO: AFP
"It feels good to keep moving up the line," Rodriguez told reporters. "Long after I'm playing, I'll have a chance to reflect on that. Right now, the focus is on winning."
The surging Yankees completed their fourth successive series win of the season.
They launched their campaign by winning two of three games against the Boston Red Sox, the Tampa Bay Rays and the Los Angeles Angels.
The last time the Yankees won their first four series in a season was in 1926.
"We just do our best to keep [the offense] in it," Burnett said. "It's only a matter of time until they explode. They did it early today."
Rays 3, Red Sox 1, 12 innings,
Rays 6, Red Sox 5
At Boston, Pat Burrell hit a two-run homer in the 12th inning to help Tampa Bay win the completion of a suspended game, then had a three-run double in the first inning of Saturday's scheduled game to lead the Rays to victory over the Red Sox.
In the completion of the suspended game from Friday, Burrell homered with two outs in the 12th to lift the Rays to a 3-1 victory.
Evan Longoria connected in Saturday's game for Tampa Bay, which won its fifth straight.
Dustin Pedroia hit his fifth home run — a two-run shot — and Kevin Youkilis had a two-run homer for Boston.
Marco Scutaro hit his first long ball for the Red Sox, but made an error that led to one of five unearned runs.
In other games it was:
• Angels 6, Blue Jays 3
• Twins 6, Royals 5
• Athletics 4, Orioles 3
• Indians 3, White Sox 2
• Mariners 4, Tigers 2
AP, ATLANTA
Ubaldo Jimenez pitched the first no-hitter in the Colorado Rockies' 18-year history and the majors' first this season, dominating the Atlanta Braves in a 4-0 victory on Saturday.
Jimenez walked six — all in the first five innings. He was helped by Dexter Fowler's diving catch on Troy Glaus' drive to left-center field in the seventh inning.
Jimenez was at his best in the final innings, reaching the high 90s mph with his fastball through the last batter. The 26-year-old right-hander struck out seven and had an RBI single in the fourth inning.
Braves starter Kenshin Kawakami took the loss.
In other games it was:
• Mets 2, Cardinals 1, 20 innings
• Astros 4, Cubs 3
• Nationals 8, Brewers 0
• Giants 9, Dodgers 0
• Marlins 5, Phillies 1
• Pirates 5, Reds 4
• Padres 5, Diamondbacks 0
Comments will be moderated. Keep comments relevant to the article. Remarks containing abusive and obscene language, personal attacks of any kind or promotion will be removed and the user banned. Final decision will be at the discretion of the Taipei Times.