Samuelsson's late goal stings the Kings
ADVANTAGE VANCOUVER The Kings handled the pressure of their first playoff game since 2002 well, but Mikael Samuelsson's second strike in overtime won it
The Vancouver Canucks needed an overtime goal from Mikael Samuelsson to put away the Los Angeles Kings 3-2 in the opening game of their NHL series on Thursday.
The Canucks outshot the Kings 39 to 21 in regulation time, but needed some heroics from goaltender Roberto Luongo in the extra period to stay alive, before Samuelsson sealed it with his second goal after a Henrik Sedin pass from behind the net.
"That's the sort of thing that is going to rub off on one or two guys," Canucks coach Alain Vigneault said of Samuelsson's game in a see-sawing contest in which neither side could score in the first period.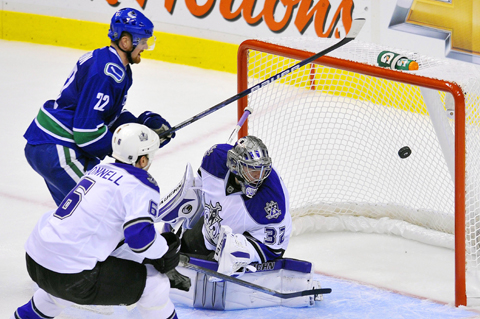 Daniel Sedin of the Vancouver Canucks, left, fires the puck past Los Angeles Kings goalie Jonathan Quick, right, as Sean O'Donnell of the Kings tries to help defend during the second period of Game 1 of the Western Conference quarter-finals at General Motors Place in Vancouver on Thursday.
PHOTO: AFP
Jarret Stoll put Los Angeles on the board first in the second period, before Samuelsson hit back with an equalizer. Daniel Sedin then put Vancouver ahead, but the Kings' Fredrik Modin tied it again at 2-2.
The Canucks dominated the third period, but were unable to find a winner and were saved from defeat in overtime when Luongo reached behind himself to swipe away a goal-bound puck.
"That's what we need from him and his teammates went down and rewarded him," Vigneault said of Luongo, who has been in patchy form since netminding Canada to a gold medal at the Winter Olympics.
Los Angeles, appearing in their first postseason since 2002, had handled the pressure well, coach Terry Murray said.
"I think we played good," he told reporters, singling out Jonathan Quick for praise after the goalie turned away 41 shots.
Game 2 is tonight in Vancouver.
Canadiens 3, Capitals 2
In Washington, Tomas Plekanec scored 13 minutes, 19 seconds into overtime to give the eighth-seeded Montreal Canadiens a victory over the top-seeded Washington Capitals on Thursday night in Game 1 of the Eastern Conference playoff series.
Plekanec beat Jose Theodore with a drive from the high slot.
Mike Cammalleri scored for Montreal on a power-play in the first period and Scott Gomez tied it at 2-2 with 12 minutes, 26 seconds to play. Jaroslav Halak stopped 35 shots.
Joe Corvo had a first-period goal and Nicklas Backstrom scored early in the third period for the Capitals, whose top-rated power-play went 0-for-4. Theodore made 45 saves.
Two-time reigning league MVP Alex Ovechkin did not have a shot on goal.
Game 2 is tonight in Washington.
Sabres 2, Bruins 1
In Buffalo, New York, Ryan Miller made 38 saves and Craig Rivet scored the go-ahead goal with a slap shot from the right circle with six minutes left in the second period in Buffalo's playoff-opening victory over Boston.
Thomas Vanek also scored in Buffalo's first playoff game in three years.
Miller stopped 23 shots in the second period alone, in building on a stellar season in which he won a club-best 41 games and backstopped the US to a silver medal at the Vancouver Olympics.
Mark Recchi scored for the Bruins, who finished the regular season sixth in the Eastern Conference.
Game 2 of the best-of-seven Eastern Conference quarter-final is tonight in Buffalo.
Comments will be moderated. Keep comments relevant to the article. Remarks containing abusive and obscene language, personal attacks of any kind or promotion will be removed and the user banned. Final decision will be at the discretion of the Taipei Times.