Mavs tumble under Howard's presence
Dwight Howard made his presence felt with 17 points, 20 rebounds and five blocks to guide the Orlando Magic to a 97-82 victory over the Dallas Mavericks on Thursday.
Mickael Pietrus made all six of his three-point attempts and finished with 24 points off the bench, while Vince Carter returned from a toe injury to score 19 and help the Magic (53-22) to their third win in a row.
"I think we're starting to peak, which is good with the playoffs coming," Howard told reporters. "I just want to win a championship and in order for us to win, we have to stay consistent."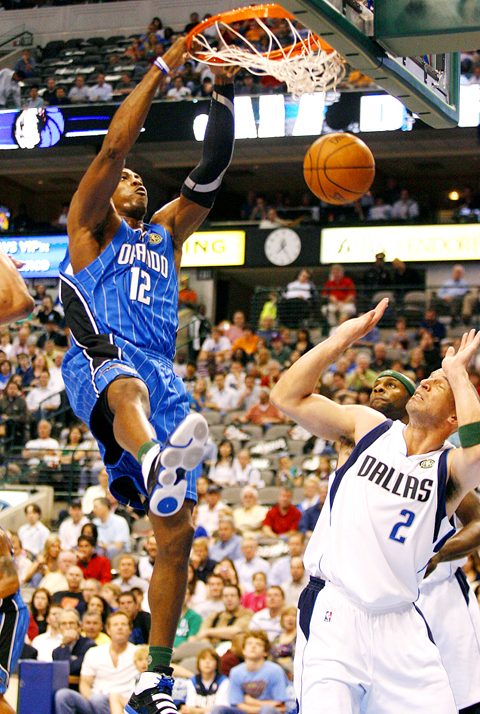 Orlando Magic center Dwight Howard dunks the ball during an NBA game in Dallas, Texas, on Thursday.
PHOTO: REUTERS
The Mavericks were playing for the second consecutive night and appeared sluggish, falling behind by seven points at halftime and 16 after three quarters.
Dirk Nowitzki had a team-high 24 points for Dallas (50-26), but was the only starter to score in double figures. Jason Terry and Jose Barea grabbed 16 points apiece from the bench.
The defeat saw Dallas fall into a tie with the Utah Jazz for second in the Western Conference. Orlando are moving closer to clinching the second seed in the East and have won 14 of their last 16.
The Magic made 14 of 24 three-pointers and got major contributions from two players coming back from injury.
Nuggets 109, Trail Blazers 92
At Denver, Carmelo Anthony scored 13 of his 25 points in the fourth quarter, helping the Nuggets rebound from a tough week to beat Portland.
Nene added 22 points and Chauncey Billups 21 for the Nuggets, who won for only the second time in a seven-game stretch, dropping from second to fifth in the home stretch of the Western Conference playoff race.
Comments will be moderated. Keep comments relevant to the article. Remarks containing abusive and obscene language, personal attacks of any kind or promotion will be removed and the user banned. Final decision will be at the discretion of the Taipei Times.