Hopkins prepares revenge on Jones
Bernard Hopkins has labeled Roy Jones Jr a "dangerous and desperate" man as they prepare to renew their rivalry in Las Vegas on Saturday some 17 years and thousands of jabs after the boxers first faced each other.
When the pair first clashed, Bill Clinton was US president, George W. Bush was co-owner of the Texas Rangers baseball team and Barack Obama was a lawyer in Chicago.
It was way back in May 1993 when they contested the vacant IBF middleweight title at RFK Stadium in Washington.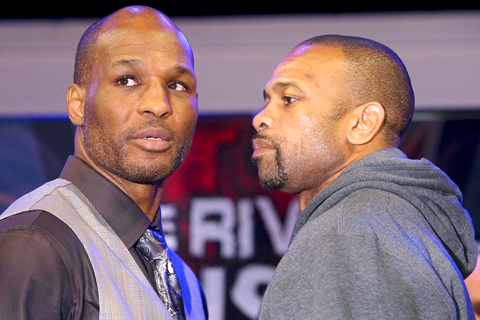 Light heavyweight boxers Bernard Hopkins, left, and Roy Jones Jr, both of the US, pose during a news conference at the Mandalay Bay Resort and Casino in Las Vegas on ­Wednesday.
PHOTO: REUTERS
Jones won a unanimous decision in what was the first world title bout for both fighters and then went on to win belts at super-middleweight, light heavyweight and heavyweight.
Those glory days have passed, and 41-year-old Jones has lost five of his last 10 fights, three by knockout, including being stopped in the first round by unheralded Australian Danny Green in his most recent contest in December.
"Roy Jones is a desperate man. A desperate man is a dangerous man," 45-year-old Hopkins told reporters.
Hopkins (50-5-1, 32 KOs) captured the middleweight belt in 1995 by stopping Ecuador's Segundo Mercado, and made a record 20 successful defenses of that crown before losing two close decisions to fellow American Jermain Taylor in 2005.
He said his rationale for the rematch is simply to reverse what he considers the only clear defeat of his career.
"It's personal," he said. "It's definitely personal. I helped start his legacy and I'm going to end it."
Each of the fighters are blaming the other for the amount of time between the two contests.
"He didn't want to fight me again because after 1993 I got better and he didn't," Hopkins said.
Jones, in a telephone interview, countered: "He didn't want to fight me again until he felt like I was at the end of my career, and I had deteriorated and slowed down a bit.
"He wasn't going to fight me until he thought I was done," Jones said. "Now he feels like I'm done, so he'll fight me now."
Hopkins' last two fights have brought points wins against Enrique Ornelas and Kelly Pavlik but Jones was confident the veteran's desire for revenge would remain unfulfilled.
"He don't like me, and I'm glad he don't like me," said Jones (54-6, 40 KOs). "He hates that he couldn't beat Roy Jones in his prime, in his heyday, and he hates Roy Jones for that, he hates that I overshadowed him in his prime, and he has not liked me from that day forward. But that's too bad.
"After Saturday, he's gonna hate me twice as much as he does now," Jones said.
Comments will be moderated. Keep comments relevant to the article. Remarks containing abusive and obscene language, personal attacks of any kind or promotion will be removed and the user banned. Final decision will be at the discretion of the Taipei Times.