Ljubicic and Jankovic win titles
DANE DOWNED Jelena Jankovic dictated from the baseline throughout her one and a half hour match against Caroline Wozniacki of Denmark
Ivan Ljubicic beat Andy Roddick 7-6 (3), 7-6 (5) to win the BNP Paribas Open on Sunday to finally claim his first ATP Masters 1000 title after three losses in finals.
The 31-year-old Croatian was set to rise to around 13th in the new ATP Tour rankings released yesterday, returning to the top 20 for the first time in more than two years and recovering from a slump in form last year when he lost in the first round in five consecutive tournaments.
"I had my problems, like everybody else,'' Ljubicic said.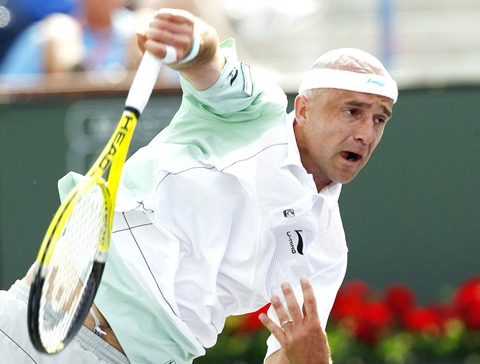 Ivan Ljubicic serves to Andy Roddick in the men's singles final of the Indian Wells ATP tournament on Sunday in Indian Wells, California.
PHOTO: REUTERS
All that was forgotten on Sunday when he beat Roddick in a contest between big servers.
Ljubicic set up his fourth match point with the last of his 20 aces, then clinched it with a service winner to become the second-oldest champion at Indian Wells behind Jimmy Connors, who was five months older as the 1984 champion.
"It was really a mind game," he said. "When you have two big serves and not a lot of rallies happening, it's a very mental match. I was fortunate enough to be more relaxed by the end."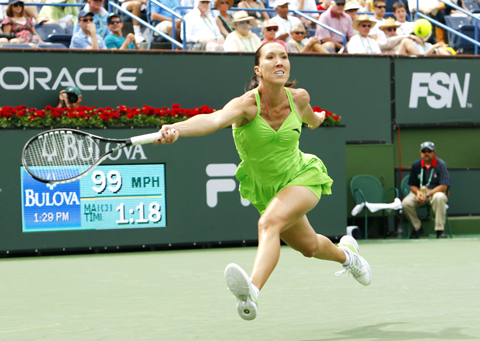 Jelena Jankovic hits a return to Caroline Wozniacki during the women's singles final on Sunday at the Indian Wells WTA tournament in Indian Wells, California.
PHOTO: REUTERS
Roddick was trying to become the first American man to win at Indian Wells since 2001, but he trailed in both tiebreakers. He had beaten Ljubicic seven times in 10 meetings, winning their last match at Indian Wells in two tiebreakers in 2007.
"I felt like I was winning my fair share of the rallies once we got into them," he said. "I just ran into a guy who served great on the big points. Unfortunately that's probably the one thing that I don't have control over out there."
Jelena Jankovic had a much easier time in the women's final, defeating Caroline Wozniacki 6-2, 6-4 for her first title in seven months.
The former top-ranked player from Serbia, dictated from the baseline throughout her one and a half hour match, hitting the lines and keeping Wozniacki on the run.
Jankovic broke Wozniacki three times in the first set and again in the first game of the second set.
"I wanted to be really aggressive, but at the same time patient, and not really go for too much or go over the limit with some balls," Jankovic said. "I waited for my opportunities, and when I had them, I took them."
For Ljubicic, his breakthrough in an ATP Masters 1000 final followed losses in 2006 to Roger Federer at Miami, and in 2005 to Tomas Berdych at Paris and Rafael Nadal at Madrid. Ljubicic is the first player outside the top 20 to win a Masters 1000 title since No. 21 David Nalbandian in 2007.
"Looking at my career, I did feel like I was missing it," he said. "It's really a fantastic feeling to finally have it. It gives something special to your career."
There were no service breaks in the two hour final. Roddick served three love games in the second set, but had nothing to show for his effort.
Ljubicic won the first three points of the first tiebreaker.
Roddick's forehand error left him trailing 6-3. Ljubicic set up his winning forehand with a drop shot, a tactic that worked repeatedly against Roddick.
Ljubicic raced to a 6-2 lead in the second tiebreaker, but he double-faulted on his first match point. He challenged the call on Roddick's service return, but the ball was on the line, leaving the American trailing 6-4. Roddick got to 6-5 with an ace before Ljubicic closed it out.
Comments will be moderated. Keep comments relevant to the article. Remarks containing abusive and obscene language, personal attacks of any kind or promotion will be removed and the user banned. Final decision will be at the discretion of the Taipei Times.