FEATURE : Hokkaido cricketers receive warm welcome
RUCKING NUISANCE While cricket in Japan has proved more popular among locals than it has in Taiwan, teams still have to contend with playing on rugby pitches
When the players from Hokkaido Cricket Club arrived in Taiwan last week, the nearly 30ºC difference in temperature wasn't the only shock to the system.
The standard of cricket was also "a little bit more competitive than we're used to," team member Rod Kelly said.
Leaving Hokkaido, where there is still snow on the ground and arriving in Taiwan to warm spring sunshine before being thrust into two invitational games on Friday against the ultra-competitive Pakistan Cricket Club Taiwan (PCCT), was perhaps not quite the relaxed start to the weekend they had hoped for.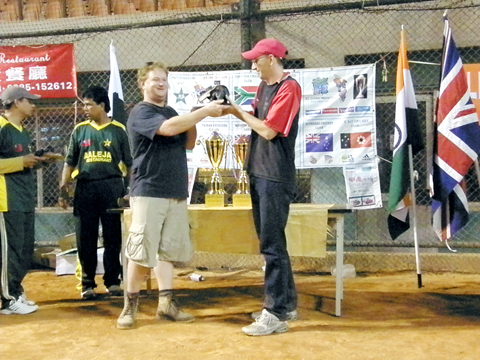 Hokkaido Cricket Club's Bradley Callaghan, left, presents a trophy to Grant Dexter of Formosa Cricket Club in Taichung on Sunday.
PHOTO COURTESY OF MARY MULLAN
Indeed, Hokkaido's players were still getting the frost out of their systems as PCCT set about them, racking up 155 for 2 off their 20 overs before bowling the tourists out for 60 in Friday morning's game.
The visitors picked up after lunch, scoring a respectable 131 for 7, but that still wasn't enough as PCCT chased down the target with overs to spare.
Nevertheless, Hokkaido dusted themselves off and put in a respectable performance the next day down in Taichung at the Jan Hong Tournament, drawing one and narrowly losing another of their three group games, with Kiwi Brendan O'Connor winning batsman of the tournament for some splendid knocks despite the team's early exit.
Chatting with the team while watching Sunday's final, Aussie Simon Jackson, Hokkaido's manager, said cricket in Taiwan and Japan has much in common.
Whereas Taiwan's teams have to use baseball grounds for somewhere to play, cricket in Japan is also a bit of a trial as the teams have to share rugby pitches — during the rugby season, he said.
Attracting locals to the game has also proved tough, but in this area Japan has had rather more success than Taiwan, Jackson said, with the game establishing a foothold in a number of universities and attracting many young Japanese.
The tourists hoped this weekend's tournament would mark the start of future exchanges between cricket sides in Taiwan and Japan, with Hokkaido inviting local teams to Sapporo for a tournament they plan to hold in September.
Autumn is a great time to visit the island, Jackson said.
"The weather is beautiful, the scenery is fantastic and it's also harvest time so there is great food in abundance," he said.
For many of the Hokkaido players, this was their first trip to Taiwan, and they were pleasantly surprised.
"Very impressed," said Jackson, adding that he didn't have a good impression of Taiwan previously.
"A well-kept secret," said fellow Aussie Bradley Callaghan, the team joker, for once being serious.
Asked what he would take back with him from his trip to Taiwan Callaghan replied: "Good memories. And about four extra kilograms from all the great food we have eaten."
Comments will be moderated. Keep comments relevant to the article. Remarks containing abusive and obscene language, personal attacks of any kind or promotion will be removed and the user banned. Final decision will be at the discretion of the Taipei Times.