FEATURE : Badminton stars unite behind new charity
Room 101 in a hotel in central Birmingham on an overcast morning and a new and possibly unique venture is launched.
Top players from the world of badminton, gathered for last week's annual All England championships, gave up their time for a media conference to lend the sport's muscle to a new charity called Solibad.
Brainchild of French photo-journalist Raphael Sachetat, its name in French is Badminton Sans Frontieres, echoing the renowned Medecins Sans Frontieres.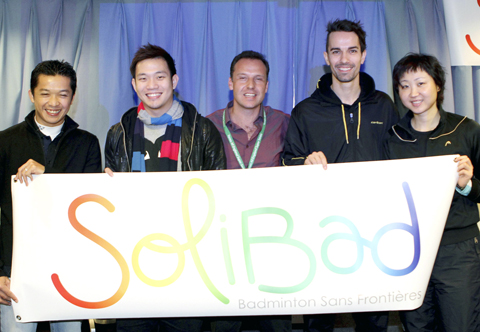 From left to right, Taufik Hidayat of Indonesia, Koo Kien Keat of Malaysia, Solibad founder Raphael Sachetat of France, Nathan Robertson of England and Zhou Mi of Hong Kong attend a media conference to launch the charity Solibad on Friday in Birmingham, England.
PHOTO: REUTERS
The aim is to pull together human and financial resources to raise funds through the badminton community and beyond to help small-scale projects.
Two are already under way at orphanages in Bali and Kuala Lumpur. Solibad is also engaged with another charity, Peace and Sport, on a project called "1,000 Rackets for Haiti."
This aims to collect badminton equipment to help Haitian youngsters living in survivor camps to overcome their trauma and to resume living together in confidence.
"It's exciting for me and I know the players are excited," Sachetat, 37, said on the eve of the Solibad launch. "It's unique, I think, because it's the first time so many players in one sport and the overall community have come together to support one foundation or one cause. I may be wrong, but I've not seen that in any other sports. It's usually one star that has his own foundation, but everybody coming together from the top stars to the leisure players, all for one cause, I think it's unique."
Those lending support at the media launch included former Olympic gold medalist Taufik Hidayat of Indonesia, England's doubles supremo Nathan Robertson, former All England women's titleholder Zhou Mi of China and world-ranked No. 1 men's doubles player Koo Kien Keat of Malaysia.
In addition, Pi Hongyan, the Chinese-born woman player who represents France and is world-ranked five, has been involved from the start and is playing a major role.
Others lending backing include Denmark's Jan Jorgensen, Nguyen Tien Minh from Vietnam, Germany's Marc Zwiebler and Dutchwoman Judith Meulendijks.
They and all the others will act as Solibad ambassadors, backing the projects and spreading the word.
Sachetat spent some time in the field in Africa when training to be a doctor before, as he puts it, being "kidnapped" by badminton.
For the past 10 years he has followed the international circuit, becoming almost as familiar a face as the players themselves.
The new English Web site (www.solibad.net) publishes information on Solibad resources and highlights action and concrete assistance in the field. The latest money-raiser is an auction of one of the shirts worn by world number one Lee Chong Wei of Malaysia on the way to his first All England title which he won on Sunday.
"This all brings together my twin passions for badminton and humanitarian work. I am very excited," Sachetat said.
Comments will be moderated. Keep comments relevant to the article. Remarks containing abusive and obscene language, personal attacks of any kind or promotion will be removed and the user banned. Final decision will be at the discretion of the Taipei Times.