Equestrian 'cruelty' threatens Olympics: activists
An international row over allegedly "cruel" training methods is threatening to engulf the elite world of top-class equestrian sport ahead of the 2012 Olympics.
The controversy over what is being called "the blue-tongue scandal" has led the British Horse Society to demand an urgent inquiry into the practices being used on some of the world's most expensive competition horses.
Tens of thousands of people have signed online petitions or sent letters of protest to the sport's governing body, the Federation Equestre Internationale (FEI), based in Switzerland. There is also talk on social networking Web sites of a boycott of the 2012 Olympic equestrian event in south London, at which some 23,000 spectators are expected.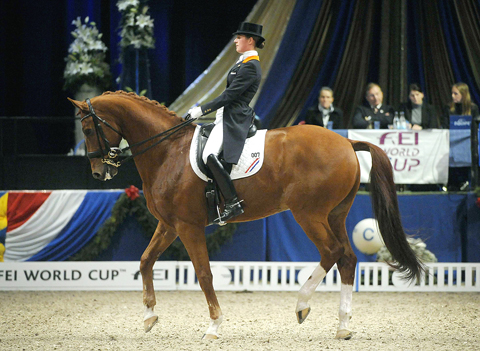 Adelinde Cornelissen of the Netherlands on Parzival competes in the FEI World Cup dressage at the Stockholm Horse Show on Nov. 28.
PHOTO: REUTERS
The furor began when a video of a dressage horse ridden using a technique called rollkur — the practice of drawing the horse's neck round in a deep curve so its nose almost touches its chest — was posted on YouTube. It showed Swedish rider Patrik Kittel at October's World Cup dressage qualifiers at Odense in Denmark warming up his horse, Watermill Scandic, for a sustained period of time in the position, also known as hyperflexion. The horse's tongue appears to loll out and go blue. Kittel has since received death threats.
The incident has caused a "phenomenal reaction," dressage trainer and author Sylvia Loch said.
"It is a shocking symptom of where the sport is going, it's the tip of the iceberg," she said. "What is going on behind closed doors in the training of these horses is very wrong. Dressage should be about lightness, freedom of movement and a partnership between horse and rider. Rollkur is so, so cruel. The horse can only see its own feet, so it is reliant on the rider for balance, which is simply psychological torture."
Loch believes the sport's good name is under threat.
"Dressage should be a delightful ballet where the work looks effortless," she said. "It doesn't need vile and unnatural methods. Horses shouldn't be brainwashed like this."
Supporters of rollkur say it is a tool to improve the suppleness of a horse.
"In the right hands it is a valuable training method, and it cannot make a horse's tongue go blue, no matter what people seem to think," said Roly Owers, of the World Horse Welfare charity.
In its letter to the FEI asking it to investigate, the British Horse Society's chairman, Patrick Print, wrote: "In our view, the concerns so widely expressed are reasonable and therefore deserving of an urgent two-part investigation: first, an inquiry into the treatment of this particular horse on this particular occasion; and, second, a broader inquiry into the ethics and consequences of hyperflexion."
"Please note that we pass no comment on the aesthetics of seeing a competition horse contorted in a way it never appears to choose for itself. Our concern is only to speak out when we believe that the welfare of horses demands it," it said.
The FEI said it was taking the issue seriously.
"FEI's main concern has always been, and will always be, the welfare of the horse. We are taking the issues raised in the video and in the comments made by members of the public very seriously and have opened a full investigation," a spokeswoman said.
Dressage, invented to train horses for war, became an Olympic discipline in 1912.
"We take the welfare of the horse very seriously, and we have a strong policy against anything that distresses a horse, but things are relative to each horse," said Claire Booth, a spokeswoman for British Dressage. "Trotting a horse in small circles for a long time can be cruel, but for a short time is a perfectly acceptable training method. Dressage judges are looking for a happy athlete in the arena, and that's not going to be achieved by force."
In an interview with Horse and Hound magazine, Kittel said he had been misrepresented.
"Scandic sometimes plays with his tongue," he said. "During the filmed period of my training, he caught his tongue over or between the bits. I stopped when I noticed and put it back in the right place."
Comments will be moderated. Keep comments relevant to the article. Remarks containing abusive and obscene language, personal attacks of any kind or promotion will be removed and the user banned. Final decision will be at the discretion of the Taipei Times.